I discovered the secret to Iowa's farm legacy at the Iowa State Fair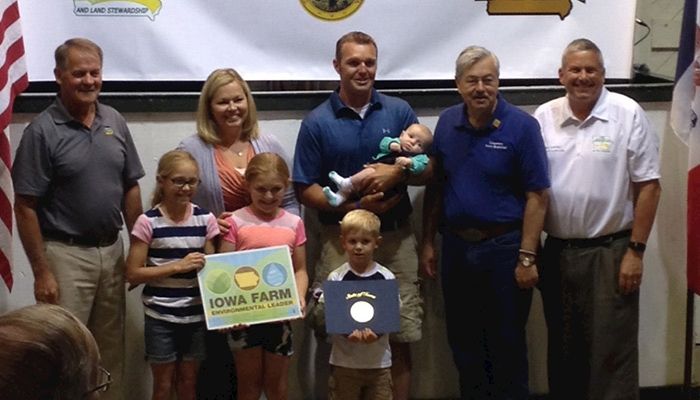 If Nick and Emily Knepper aren't taking shortcuts, none of us should.
The Kneppers brought their young family of six to the Iowa State Fair to receive one of the record 88
Iowa Farm Environmental Leader Awards
presented last week.
Yes, that's four kids, including a two-month-old, at the Iowa State Fair.
Honestly, I would have waited to receive my award in the mail.
But the Kneppers, who raise hogs and cattle and grow corn and soybeans in Delaware County, don't seem to duck challenges. They use precision equipment to apply fertilizer to their fields; they practice no-till on many of their acres to avoid disturbing the soil; and they plant grassy strips in their fields to help prevent runoff from reaching our water.
Holding his youngest child, Nick explained why his work to protect Iowa's soil and water is so important to him. "It's important for us, now and in the future, to protect what we've been given so it's there for future generations."
If that doesn't sound familiar, you may want to acquaint (or reacquaint) yourself with the way Iowa's farmers go about their business.
Or just stop by the Iowa Farm Environmental Leader Awards next year. Notice the number of young and multi-generation families, and you'll understand what's motivating farmers to work harder (
and smarter
) to protect the environment.
And if you're still not convinced that farmers are committed to doing what's right for future generations, through good times and bad, head over to the
Century and Heritage Farm Awards
ceremony at the Iowa State Fair.
This year a whopping 344 family farms received Century Farm Awards (for turning 100 years old) and 86 farms received Heritage Awards (for turning 150)!
You can't fake sincerity, commitment, and sound conservation practices for 100 years.
So if someone should try to convince you that farmers are willing to sacrifice our land and water for a short-term gain, just raise an eyebrow and present them with a ticket to the 2015 State Fair.
By Zach Bader . Zach is Iowa Farm Bureau's Online Community Manager.