Honoring our veterans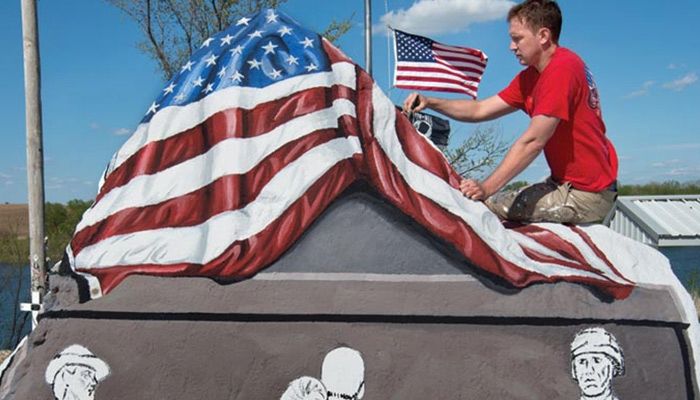 What started as a high school art project by a southwest Iowa farm kid has evolved into a must-see tourist destination and treasured tribute to U.S. veterans. Earlier this spring, artist Ray "Bubba" Sorensen II sandblasted the now-famous "Freedom Rock" north of Greenfield to remove the many layers of paint it accumulated in the 16 years that Sorensen has painted a Memorial Day mural on the 60-plus-ton rock.

Each year, Sorensen repaints the Freedom Rock with a different mural to recognize veterans who have served our country since its founding. The Freedom Rock is located south of Interstate 80, just off of Highway 25 north of Greenfield.
In addition, Sorensen has set a goal to paint a Freedom Rock in all 99 Iowa counties by 2019.

"I have 65 counties booked right now," Sorensen said. "I plan to paint 10 to 12 per year." Currently, Sorensen is working on Freedom Rock number 15 in Hancock County.

As always, Sorensen finished painting the original Freedom Rock by Memorial Day.

Words and photos by Gary Fandel. Gary is photographer/reporter for the Iowa Farm Bureau Federation.