Harvest safety tips for farmers and city folks alike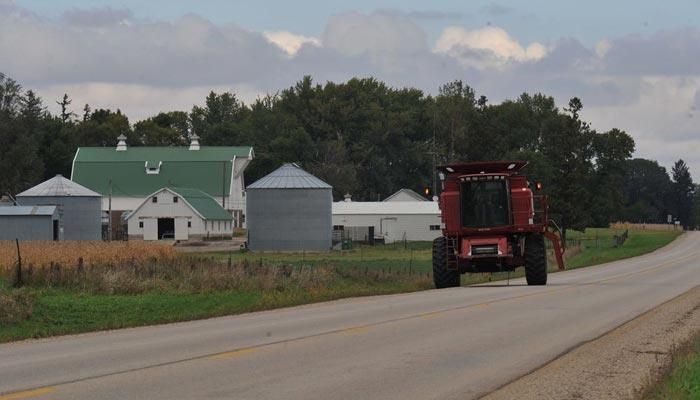 It's that time of year when students are back in the classroom and Iowa farmers are gearing up to harvest a record-large corn crop this fall.
Yet in the rush to get the kids to football games and marching band practice, and to get the crops out of the fields and into the bins, the fall is also a dangerous time on Iowa roads.
Recently, I attended a farm safety workshop for the media hosted by Iowa's Center for Agriculture Safety (I-CASH), based at the University of Iowa. Farm safety experts, a county sheriff and an emergency-room physician at the workshop gave tips that they wanted journalists to share when writing stories about farm safety.
A few of the biggest farm-safety takeaways, for both farmers and their fellow drivers, include the following:


Always wear your seat belt. Especially in rural areas, and on county roads, many Iowans don't buckle up when they're either a driver or passenger in a vehicle. And the same advice goes for farmers too. Wear seat belts in your tractor or combine. Today's farm equipment is safer today, but it's also designed to protect you when wearing a seat belt. If you're not wearing a seat belt, you could get thrown from or pinned under a vehicle, or you could hit your head inside the tractor compartment.


Drive without distractions. We hear it all the time: Don't text or check your smartphone while driving. But distracted driving continues to be a leading cause of vehicular accidents. Please take the time to watch this heart-wrenching video (https://www.youtube.com/watch?v=mKKw-Q1M80o) from the Minnesota DOT about how distracted driving not only cost the life of a farm mom, but also ruined the life of the driver.


Taking a new medication? Know that medications can make you drowsy or slow down your response time on the road. Also, farmers should remember to take frequent breaks to eat. Many medications are only effective when taken with food.


Don't let children under 6 near farm equipment. No exceptions. While overall farm accidents involving children are on the decline, the number of farm-related fatalities among children under the age of 6 is going up, the farm safety experts said. Yes, it may be fun to get that Facebook photo of baby on his or her first tractor ride. But it's safer to keep young children away from farm equipment and teach them at an early age that tractors and combines aren't toys to play on.


ATVs aren't made for two riders. Again, resist the urge to give kids a ride on ATVs. Even though ATVs have larger seats, the vehicles aren't designed to distribute the weight of two riders. If kids are riding a child-size ATV, make sure they wear helmets. And if you're riding or driving a side-by-side UTV, make sure to wear your seatbelt.
For more farm safety tips, visit I-CASH's website (
http://www.public-health.uiowa.edu/icash/
) or check out the National Children's Center for Rural and Agricultural Health Safety (
https://www3.marshfieldclinic.org/nccrahs/
).
By Teresa Bjork. Teresa is a senior features writer for the Iowa Farm Bureau Federation.