Grill like a champion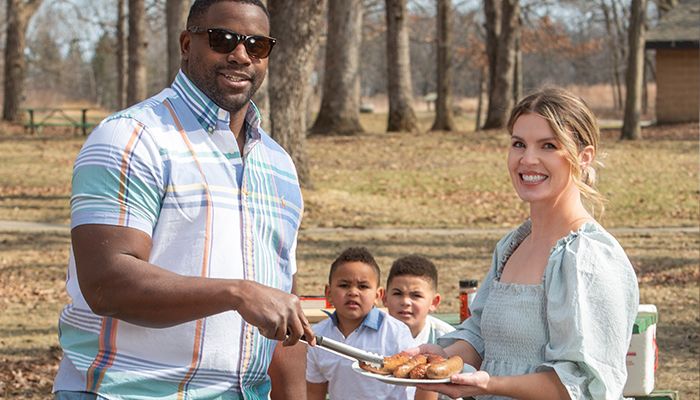 Grilling season is here, and whether you're a beginner or a pro, Rashawn Parker, Iowa Farm Bureau's 2021 Cookout Contest champion, has some helpful tips for making this your best season yet.
Parker perfected his techniques through the years by watching hours of YouTube tutorial videos and by the best experience of all — simple trial and error. "Find something your taste buds like," he advises. 
His winning entry in the 2021 Cookout Contest was a picanha steak, which he found absolutely delicious and wanted to share with others. Picanha is a cut of beef also known as the sirloin cap or rump cover, and it smokes like a brisket, according to Parker.
"An average size [of picanha] is 2 to 4 pounds for around $30," he said, "and brisket is three times that or more. I love brisket, but the cost has gone up drastically." This average size of 2 to 4 pounds is good for two to four people, as Parker recommends cooking 1 pound per person. 
Parker says, "If it's cooked right, (picanha) is right up there with flavor and taste. It's got inner muscular fat in it, creating a tender, juicy product."
This grilling guru's advice for beginners and experts alike includes the following:
Start off at lower temperatures and work your way up. Parker says you can always crank it up if necessary. He also recommends getting an instant read thermometer to truly test the inner temperature of the meat.
Get tips on YouTube. He is a huge fan of doing this type of research and has learned many tips from people like Matt Pittman, CEO and pitmaster of Meat Church BBQ.
Be willing to try different spices. A favorite of his is Holy Voodoo from Meat Church BBQ, which he uses on everything from chicken wings and pork to eggs and vegetables.
Fine tune and find something you like. Parker says, "I'm cooking for my family and myself!" Besides picanha, his favorite meat to grill is brisket. His wife loves pulled pork, while his two young sons enjoy pork chops, hamburger, ribs and hot dogs.
Parker also suggests using pork for cooking on a budget. "We live in Iowa, so my first choice is pork!" he laughed.
A pork tenderloin may cost between $10 to $15 and will last a few days — at least for Parker, when he takes it for lunches at work. He suggests cooking until it reaches 145 degrees, which is about 45 minutes of cooking time. "It's quality meat," he said.
Sprout Murray is a freelancer from Mason City.

Return to The Iowa Dish