Go Green, and save green, with Ford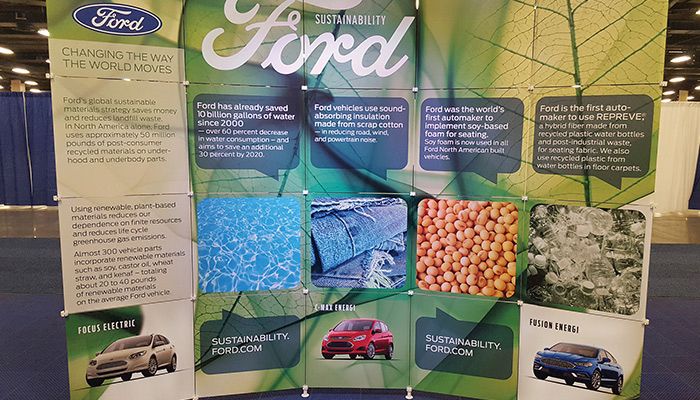 Not only can Iowans power up with renewable corn-based ethanol fuels, but the new Ford F-150 trucks are also built from bio-based and recycled materials — from the inside and out.
Soy-based foam is used for the seat backs, head restraints and seat cushions. Ford was the first auto­maker to use soy-based foam, beginning in 2008.
Ford uses soybeans and post-consumer recycled tires in exterior mirrors and seals. Recycled cotton and blue-jean production scrap are used for sound insulation and padding.
In addition, the wiring harness includes 10 percent rice hull content, and the fuel lines are made from bio-based nylon.
All the weight-saving aluminum in the Ford truck body is recyclable metal, helping reduce carbon dioxide emissions.
In total, Ford diverts 2.7 million plastic bottles from landfills annually.
See first-in-the-industry innovations in safety and fuel economy with the Ford F-150 and other 2018 Ford vehicles at your local dealership.
As a Farm Bureau member, you qualify for exclusive Bon­us Cash savings of $500 on most of these Ford models and savings of $750 on Lincoln models. New Farm Bur­eau members become eligible for the Bonus Cash offer in 30 days. Visit your local Ford or Lincoln dealership for complete details.
To redeem the offer, Farm Bureau members must download a Ford eCertificate verifying your membership and present it to the dealer. If you need assistance downloading the certificate, contact your county Farm Bureau office, or call the toll-free member helpline at 866-598-3693.