Get smokin'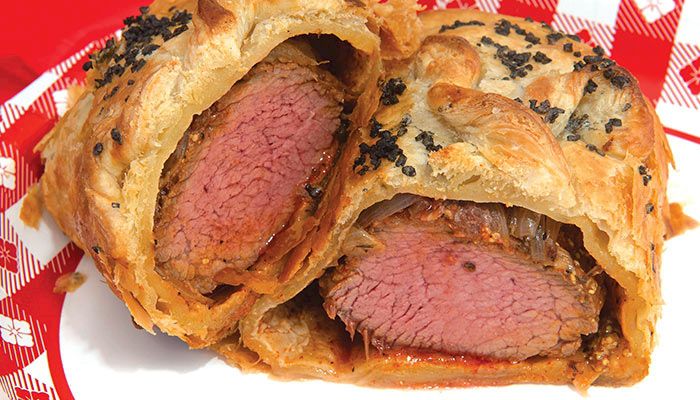 It comes as no surprise the number one holiday for outdoor grilling is the Fourth of July, with 87 percent of Americans lighting up the barbecue. The second most popular grilling day? If you ask Iowa Farm Bureau Federation (IFBF) and the hundreds who will line the main concourse for free samples, it's their annual Cookout Contest held each year at the Iowa State Fair.
This year's 56th contest, held Tuesday, Aug. 13 during Farm Bureau Day, will bring dozens of chefs and a crowd of onlookers to the fair to see who will be crowned "top chef." All competitors must win their county contests to get a chance to compete at the statewide scale, vying for cash, prizes and the honor of being named the Iowa Farm Bureau Cookout Contest champion. The winner of the youth division can even win a new gas grill donated by the Iowa Propane Gas Association, valued at more than $1,000. To find a local qualifying contest and rules for entry, visit https://www.iowafarmbureau.com/Article/Iowa-Farm-Bureau-Cookout-Contest.
"We know why this event is so popular each year — because it's not just state fairgoers who enjoy hearty meat dishes. Our Iowa Farm Bureau Food and Farm Index survey shows that nine in 10 Iowa grocery shoppers eat real meat weekly and prefer it to plant-based alternatives," says Craig Hill, IFBF president and longtime Iowa hog farmer. "When they're looking for quality products, they seek out taste, and that's what this contest is about — celebrating our Iowa farmers who bring nutritious, tasteful food to our dinner tables."
In this fiery hot competition, Iowans compete in the categories of beef (excluding brisket), lamb, pork, poultry, turkey or a "specialty" food class, such as fish or goat. They can also compete in the combo division, which must include two or more meats. And for those who don't mind too many cooks in the kitchen, there is also a team category, and grillers with culinary knowledge may want to compete in showmanship.
For more information on how to enter a local cookout competition, contact your county Farm Bureau office, or visit www.iowafarmbureau.com for a list of participating counties, dates and locations.