Fry: America Still Needs Farmers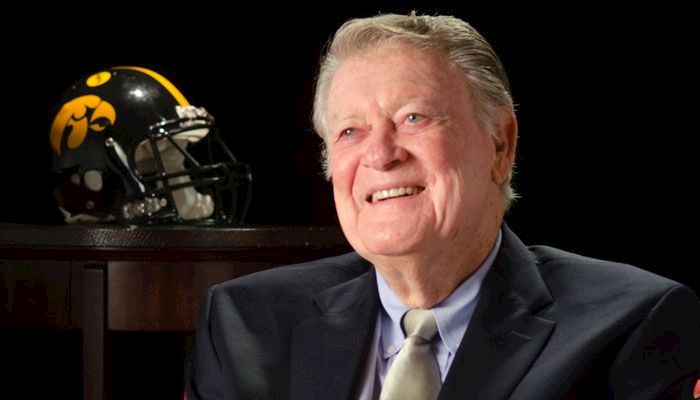 America needed farmers in 1985, and it needs them more in 2011, according to Hayden Fry, the world's leading advocate of the vocation.
In 1985, the No. 1-ranked University of Iowa football team was on a seven-game win streak; meanwhile, the farming profession was mired in an abysmal depression. Fry, the school's winningest coach and resident psychologist, crafted one of his most notable ideas: a gold sticker placed on all Hawkeye helmets with three distinctive black letters A N F: initials for America Needs Farmers.
A national television audience tuned to CBS to watch Iowa play at Ohio State on Nov. 2, 1985, and the ANF legend began.
"I am one of the luckiest men in the world to be raised on a farm," said Fry, a native of Texas. "A lot of the things I learned on the farm I applied to coaching football. The economic development of the farmers was going downhill and by 1985 it was tragic -- closing down farms and people hurting, so I came up with the idea that America needs to know that farmers need help.
"It was amazing the great response we got, not only in Iowa, but across the nation."
In 1992, the NCAA forced teams to remove "excessive" decals, like ANF and the United States flag, which Fry put on helmets to support troops during the Gulf War. On Sept. 5, 2009, UI head coach Kirk Ferentz reinstated a version of the ANF sticker and it has remained since.
"That is one of the greatest things that could happen," Fry said of ANF's return. "It may be more important today than it was in 1985 because there are fewer farmers now and more people have moved to the big cities and given up farming. The ones that have hung in there and survived do a great, great job and they need to be recognized for what they've done for America and for the world."
Fry compiled a 20-year record of 143-89-6 at Iowa, winning six bowl games, from 1979-98. The nucleus of his program consisted of homegrown talent, many of whom -- like their head coach -- grew up on a farm.
"I recruited quite a few farm boys, they're the salt of the earth," Fry said. "They wanted an education, they were well-disciplined and they were strong because they had been working on the farm."
They were also aware of a crisis that was affecting their livelihood, as well as the entire nation and world.
"The players thought (the ANF decals) were a good idea," Fry said. "Every time one of our games was televised, it went nation-wide and the results were just incredible. There was a positive outlook of the people across the nation because they realized where their food came from."
The Hawkeyes were on television three more times during the 1985 season -- including their game in the Rose Bowl -- and 43 more times before temporarily removing the decals in 1992.
Fry is also known for implementing the Tigerhawk logo, popularizing "The Swarm" and stand-up tight ends and doing the Hokey Pokey after big victories. But the ANF sticker could be his finest act.
"Without farmers, where would we be?" Fry said. "Farmers in America are the last stronghold in regards to our health and keeping us in good health by eating the natural foods."
There were thousands of other reasons for Fry and the Hawkeyes to support farmers. Despite hard times financially in the '80s, every home Saturday saw Kinnick Stadium filled with fans -- many of them taking a break from their livestock or field work.
"We had a great group of farmers and fans who were always there, win, lose or draw," Fry said. "They were there to show us the loyalty and to pat our guys on the back and say `nice game.' That kept encouraging our players to work harder so we could win."
Here are what five former UI football players had to say about ANF. All five grew up on farms before playing for the Hawkeyes and in the NFL:
"The ANF sticker represents the Iowa people. The entire state obviously isn't all farmers, but it represents the work ethic that Iowa people are all about. That symbolizes a mentality and it's kind of what I'm about. It's one of those things I'm proud of."
-- Jared DeVries (1995-98), Aplington, Iowa
"I saw those stickers when I was a kid and I thought they were so cool. As soon as I saw a T-shirt that had ANF on it, I bought four of them. If people don't know what ANF stands for, then they need an education. It's fun to see that sticker on the helmets and I hope they keep wearing it for years to come."
-- Bruce Nelson (1999-2002), Emmetsburg, Iowa
"Growing up on a farm has made me who I am today and gave me a work ethic and a vision to go out and accomplish the things I have accomplished. Knowing the type of people farmers are -- that's me. There are too many people that take farmers for granted."
-- Chad Greenway (2001-05), Mount Vernon, S.D.
"Still today I have (an ANF sticker) on my truck and everyone asks what it means. It means a lot, especially to an Iowa guy whose family depended on farming for its income. Farming is a big part of keeping the state going and helping the country. It's a huge part of America and it was an honor to be a part of that program."
-- Robert Gallery (1999-2003), Masonville, Iowa
"I remember my dad saying that what you put in, you will get out. If you don't do things right -- if you don't tend your crops or take care of your animals -- you're not going to get anything when you sell it or pick it. The same thing with football: if you don't work year-round or if you don't put the work in, come fall, you're not going to do anything."
-- Matt Kroul (2004-08), Mount Vernon, Iowa