Four-legged comfort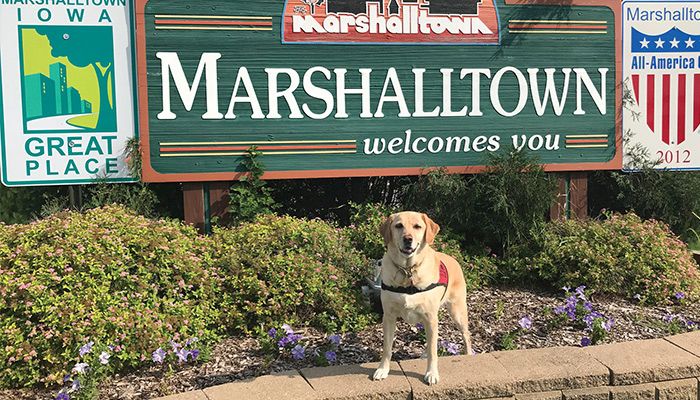 There's no describing the trauma a tornado blowing across the prairie can create. Homes, lives and communities are destroyed in seconds, faced with the stark reality that mere mortals are no match for nature's force.
Farm Bureau Financial Services' client members know they can rely on their local agent to heal their financial wounds. Now they can help heal the emotional wounds as well.
Farm Bureau's catastrophe re­­sponse team (CAT) includes canine support through its Crisis Therapy Dog Program, a pilot program leading the industry in canine crisis support.
"The tornado hit Thursday afternoon," says Marshall County Farm Bureau Office Assistant Jean Klosterman of the July 19 storm that caused severe damage to downtown Marshalltown and the surrounding area. "Friday was very intense, as was the weekend. By the time we came into the office on Monday morning, we were ready for a pick-me-up. Then in came Baylee. We were over the moon. It was just what we needed."
Baylee is Farm Bureau's first crisis response canine. There are now two dogs on the team, with likely more on the way. Baylee is an 8-year-old golden Labrador retriever belonging to Wichita, Kansas, Catastrophe Claims Consultant Josh Weninger.
"She's the perfect dog for this," says Weninger. "She is very disciplined, relaxed and mellow." And the ultimate professional. "She truly believes this is her job. ... I swear in some of the pictures, she's smiling. She loves doing this so much."
Baylee is trained by the Alliance of Therapy Dogs to assist those in crisis. In Josh's care since she was 6 months old, she spent her early years visiting children's hospitals and nursing homes, performing tricks and warming up to anyone in her presence. "She just assumes everyone she meets wants to pet her," says Weninger.
When Farm Bureau decided to experiment with a pilot therapy dog program, Baylee and Josh were a perfect fit.
"We had seen the research on what kind of benefit a therapy dog can be in a catastrophe, and it made perfect sense to give it a try," says Barb Foertsch, senior human resources business advisor for FBL Financial Group Inc./Farm Bureau Financial Services.
Canine support in times of crisis has proven to reduce anxiety by lowering blood pressure, slowing the heart rate and reducing stress hormone levels.
Farm Bureau started the program last March. The cost to the company is minimal. The benefits are huge.
"Dogs do miracles. I don't know why," says Weninger.
In Marshalltown, Baylee and Josh spent several days accompanying agents and meeting clients impacted by the tornado.
Baylee visits the insureds, providing comfort as part of the team. She also gives first responders a chance to collect their emotions and regroup. And, as in Marshalltown, she turns on her charm for Farm Bureau office personnel experiencing their own trauma.
"It's easy to forget the people behind the scenes," says Weninger. "They need support, too. And if this makes them stop and smile a bit, they can do their jobs helping others that much better."
"It sure made our day," says Klosterman. "She was just what we needed."
For Weninger, participating in the program reaps more benefits than seeing smiles on people's faces and getting to take his dog to work.
"It feels good to work for a company like this. They're not just interested in the financial side of the situation. It's not just dollars and cents. They're interested in truly protecting our client members and meeting all their needs."
Queck-Matzie is a freelance writer from Greenfield.