Former Hawkeye/NFL Stars On Hand to Celebrate Iowa's Farmers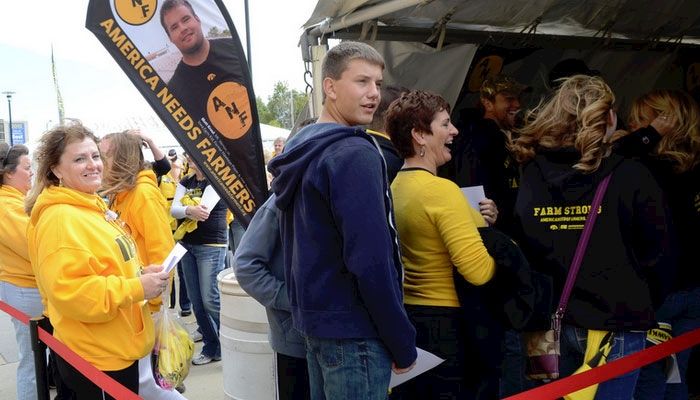 Since teaming up to raise awareness of the food and energy options that today's farmers provide through the America Needs Farmers (ANF) campaign, the Iowa Farm Bureau Federation (IFBF) and the University of Iowa (U of I) Athletics Department have contributed more than $60,000 to food banks through donations and sales of ANF merchandise. The third annual ANF Game Day will be celebrated at Kinnick Stadium October 26 against Northwestern.
During ANF Game Day, the U of I will enshrine former Hawkeye and Detroit Lions player, Jared DeVries, on the Wall of Honor in the ANF Plaza. The ANF Plaza, located on the northwest side of Kinnick Stadium, will feature DeVries as its second inductee into the ANF Wall of Honor, joining former Hawkeye and Kansas City Chiefs player, Casey Wiegmann. "Jared is a great role model for other student athletes with a tremendous work ethic and a reputation for always striving to be his best," said Hawkeyes coach Kirk Ferentz. The ANF Wall of Honor recognizes former U of I student football athletes who exemplify the tenacity, work ethic and character of the Iowa farmer, qualities that have helped Iowa remain the leading agriculture state in the nation.
A key feature of the IFBF's Legends Tent at Krause Family Plaza will be an autograph session featuring former Hawkeye/NFL players including: Aaron Kampman, Robert Gallery, Brad Banks, and Jared DeVries. Former Hawkeye and current Minnesota Vikings player Chad Greenway also joined the ANF team this year, but his NFL schedule won't allow him to join his former Hawkeye teammates on ANF Game Day. "The importance of farmers is never going to go away. The foundation of human nature is farming: being able to produce something from the land, being able to feed your family, feed your community, and feed the world," said Greenway. "It's the backbone of America. It's what we're all about. It's the fabric of our being."
Iowa Hawkeyes fans and Iowa farmers agree that having NFL and Hawkeyes legends join the ANF team is a game-changer when it comes to sharing agriculture's message. "We are honored to have these former Hawkeye greats support our cause," said Craig Hill, president of the IFBF. "We understand that consumers today are interested in knowing more about their food and how it's grown or raised. The ANF initiative is an opportunity to reach new audiences about today's farming and these players help us achieve that. There may be fewer of us than when Coach Fry launched ANF during the 1985 Farm Crisis, but we are also more diverse and face new challenges meeting consumer demands."
In partnership with U of I Athletics and Hy-Vee, IFBF has organized the ANF Great Grocery Giveaway which invites Iowans to meet today's farmers through video tours of their farms, and register for a chance to win $5,000 in free groceries. "There's a great story to tell and we invite you to visit
www.americaneedsfarmers.org
to learn more about your food and energy and the farm families who produce it, while having the opportunity to win free groceries for a year," said Hill. In addition to the autograph session, the IFBF Legends Tent will also feature games like Tailgate Toss and Hi-Striker where visitors can interact with Iowa farmers and earn a chance to win ANF prizes, or participate in a drawing for autographed ANF items. The tent will be open from 8:00 a.m. to 10:30 a.m. with the autograph session running from 8:30 a.m. to 10:00 a.m.
On ANF Game Day, ANF 'Farm Strong' merchandise will be available at Herky's Locker Room locations around the stadium. A portion of proceeds from the sale of ANF 'Farm Strong' merchandise goes to support the Iowa Food Banks.
ANF was first launched in 1985 during the height of the Farm Crisis by legendary Hawkeye coach Hayden Fry, who wanted to show an increasingly urban nation why agriculture matters. For more information about the Iowa Farm Bureau/U of I ANF partnership, click on
www.americaneedsfarmers.org
. To learn more about the growing number of Iowans in need and how you can connect with your local food pantries, click on
http://iowafba.org/
.