Former Hawkeye All-American Kicker Nate Kaeding Joins Iowa Farm Bureau And The America Needs Farmers Team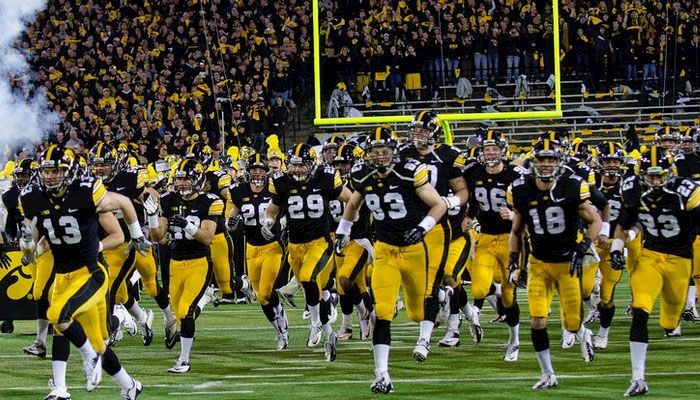 Iowa City native and former National Football League (NFL) Pro Bowl kicker Nate Kaeding is the newest member of the America Needs Farmers (ANF) team, joining an impressive roster of other former Hawkeye and NFL stars supporting the ANF campaign to raise awareness about the food and energy options that today's farmers provide. Since the ANF partnership between the Iowa Farm Bureau Federation (IFBF) and the University of Iowa (U of I) Athletic Department was founded four years ago, more than $70,000 have been contributed to the Iowa Food Bank Association through donations and sales of ANF merchandise.
Kaeding has spent quite a bit of time on his family's Muscatine County farm growing up, which led to his deep-rooted respect for today's farmers and excitement to join the ANF team. "To me, ANF means an appreciation for the hard work and all the other great things that farmers do," said Kaeding, who sees the ANF partnership between U of I Athletics and IFBF as a perfect fit. "The calling card of Iowa football is their work ethic and doing things the right way, and that's the exact same thing you'll find on Iowa farms." To view Kaeding's full story about joining the ANF team and why America Needs Farmers, visit
www.americaneedsfarmers.org
.
After finishing his NFL career as one of the most accurate placekickers in the league's history, Kaeding returned to Iowa City to start a second career as a restaurateur. Kaeding's restaurant, Short's Burger & Shine, features beef from local cattle farmers and a kitchen stocked with products from local Iowa farms. A large Iowa craft beer selection has also been a popular draw for consumers seeking a locally-brewed beverage to go along with their locally-raised beef.
The fourth annual ANF Game Day will be celebrated at Kinnick Stadium November 1 against Northwestern. On ANF Game Day, ANF 'Farm Strong' merchandise will be available at Herky's Locker Room locations around the stadium. A portion of proceeds from the sale of ANF 'Farm Strong' merchandise goes to support the Iowa Food Banks.
With most people two to three generations removed from the family farm, IFBF and the U of I joined forces to promote the ANF message and talk to consumers about the food, fuel and fiber raised by farmers. "Consumers want to know more about where their food comes from, and the ANF effort is just one way farmers are helping build that understating," said Craig Hill, IFBF president. ANF was first launched in 1985 during the height of the Farm Crisis by legendary Hawkeye coach Hayden Fry, who wanted to show an increasingly urban nation why agriculture matters. For more information about the Iowa Farm Bureau/U of I ANF partnership and events and activities during this year's ANF Game Day, visit
www.americaneedsfarmers.org
.
To learn more about the growing number of Iowans in need and how you can connect with your local food pantries, click on
http://iowafba.org/
.