Feldpausch elected vice president at IFBF's Annual Meeting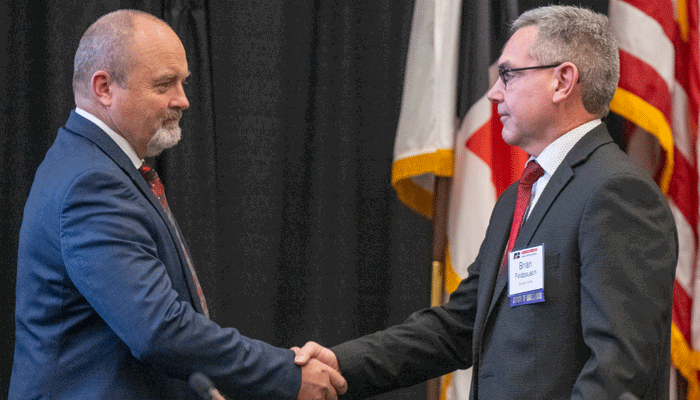 Voting delegates elected Brian Feldpausch of Grundy County as vice president of the Iowa Farm Bureau Federation (IFBF) last week at the organization's 104th annual meeting.
He succeeds Joe Heinrich of Jackson County, who didn't seek reelection. Heinrich served as IFBF vice president for the past 11 years after serving as District 6 director and holding various Jackson County Farm Bureau leadership roles.  
Feldpausch farms near Beaman, raising hogs and cattle as well as growing corn, soybeans and alfalfa. He and his wife, Jen, have three children, Abby, Nick and Will.
"It's very humbling to be elected as vice president of this organization. I've got big shoes to fill," said Feldpausch. "I plan to serve with hard work, a passion for agriculture, listening, leadership and caring about all those Farm Bureau members I serve." 
As vice president, he will serve as chairman of the IFBF state resolutions committee, which guides the organization's grassroots policy development process. He will also serve on the boards of FBL Financial Group and Farm Bureau Mutual. 
Feldpausch served as IFBF District 5 director prior to being elected vice president and previously held numerous leadership positions with the Grundy County Farm Bureau. He also served on IFBF's internal study committee, legacy planning committee and county finance task force. 
Feldpausch is a member of the Grundy County Fair Board and serves as a BCLUW school board member. 
The Iowa State University (ISU) alum also has served on a number of other boards and advisory committees, including the Iowa FFA Foundation board, ISU Ag Endowment trustee, Hawkeye Community College Ag Business Advisory Committee and various leadership roles with 4-H.  
Director district elections
 Sharyl Bruning of Monona County was elected to the IFBF board to represent District 4, which consists of 11 counties in west central Iowa. Previous District 4 Director Greg Jochum of Woodbury County didn't seek reelection. 
Bruning and her husband, Dave, have three adult children and six grandchildren. The Brunings farm with their son, Jeff, near Mapleton, where they grow corn and soybeans and feed cattle. 
Bruning currently serves as Monona County voting delegate, is active in Iowa Farm Bureau's F.A.R.M. Team, serves on the Siouxland Ag in the Classroom board and has been a 4-H leader for more than three decades. She previously served five years as Monona County Farm Bureau president and as a member of the state resolutions committee.
Joe Dierickx of Clinton County was reelected as IFBF District 6 director. The district is comprised of 11 counties in eastern Iowa. Dierickx was first elected director in 2019 and farms with his brother, Paul, growing corn and soybeans, as well as providing custom planting, harvesting and spraying services. Joe and his wife, Barbara, have three adult children. 
Tim Kaldenberg of Monroe County was reelected as District 8 director, which includes 10 counties in south central Iowa. Kaldenberg was first elected to the board in 2019. He farms in Albia and raises a beef cow/calf herd, feeder cattle, corn, soybeans and hay. Tim and his wife, Cindy, have two adult children. 
Brent Lorimor of Fremont County was elected to a three-year term on the IFBF internal study committee. The internal study committee serves as a liaison between the county Farm Bureau voting delegates and the state board of directors.  
Nine delegates were elected to represent Iowa at the 2023 American Farm Bureau annual convention in San Juan, Puerto Rico, Jan. 6-11. 
They include IFBF President Brent Johnson of Calhoun County, IFBF Vice President Brian Feldpausch of Grundy County, District 4 Director Sharyl Bruning of Monona County, Internal Study Committee Chair Darrick Hall of Jones County, Deanna Brennecke of Decatur County, Craig Recker of Dubuque County, Chris Prizler of Iowa County, Brian Borcherding of Franklin County and Brent Lorimor of Fremont County.  
Voting delegates in IFBF District 5 will meet Dec. 20 to conduct a special election to fill the remaining two years of Feldpausch's term as district director.