Feeding our neighbors in need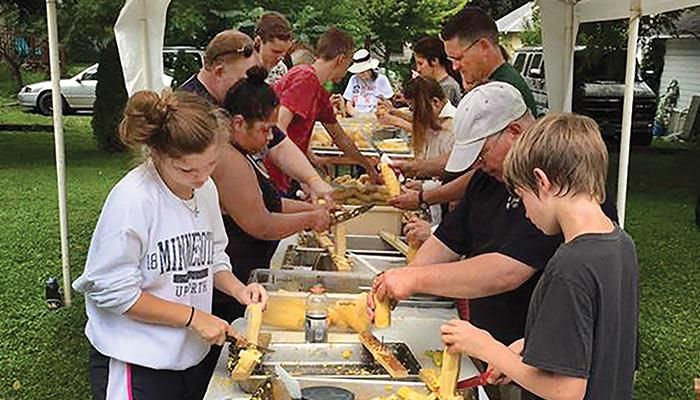 For more than a decade, Ames residents have benefited from the generosity of local volunteers who fix multiple free meals each week using donated food from area restaurants, Iowa State University and a garden tended by graduate students in the school's sustainable agriculture program.

Chris Martin, director of Food at First, said the free meal program serves seven meals per week to anyone who is hungry, no stipulations. Any food left over after dinner has been prepared is then sent home with people via the perishable food pantry, which includes produce picked out of the graduate students' garden.

"We have volunteers who drive around town and to the university picking up thousands of pounds of great perishable food left over that is then used to fix the meals, as well as given to those who need it. We call that our free market, which operates out of First Christian Church, where we serve the meals, and Trinity Reformed Church where the garden is located," Martin said. "Because the food is perishable, we collect and donate it on the same day at both locations."

Approximately 80 people sit down to dine at every single meal served. But the perishable food pantry program is in greater demand than the free meal program, Martin said.

"Five years ago, our leader at the time noted all the food being thrown away by restaurants and grocery stores. We recycle probably 250 tons of perishable food each year that would've been thrown away otherwise. We're a bit different than your average soup kitchen and food pantry. It's more labor intensive, too, picking up food each day, coming up with creative recipes for the meals daily, then getting the food distributed," he said. "It's all perfectly good food that would've ended up in the dumpster."

The people who stop by for meals and groceries range from international college students to those who are lonely to families with financial needs.

"We don't just offer food, but togetherness, human contact. All of us volunteers make sure everyone feels welcome," he said. "The meal prep shift takes four to five people about two hours daily, then you cook the meal, then we have six to eight more volunteers to serve and clean up. We also have a large crew of people who pick up the food in their own vehicles using their own gas who sort the food, organize and clean it, then distribute it. We have the most amazing, committed group of volunteers."

Among those volunteers are students who belong to the Student Association for Sustainable Agri­culture (SASA). They grow a garden and donate the produce to Food at First. Martin said they're "a fantastic group of volunteers."

"Some of the food we get from them is even better than what you'd find in the stores. These kids, when they have their turn cooking, are fixing a dozen different vegetable dishes with what they've grown. They're masters at pulling out the produce and putting together a number of dishes," Martin said. "Our cost for food we had to buy in 2014 was less than $1,000, and we served upwards of 27,000 meals that year. We have some pretty talented cooks."

Jacqueline Nester, a third year graduate student from Ohio studying community/regional planning, is enrolled in the sustainable agriculture program and belongs to SASA. She said there are approximately 10 students who currently oversee the garden. There are approximately 65 students currently enrolled in that program.

"Our garden has done really well this year. We've produced carrots, beets, radishes, cucumbers, squash, kale, cauliflower, broccoli, strawberries, raspberries, asparagus, various herbs and rhubarb. Last year, we donated approximately 350 pounds and expect that same amount this year."

A grant awarded by the Story County Community Foundation helped the students install main irrigation lines and a 500-gallon rain barrel, both of which have helped with productivity.

"There's a gap in fresh food being provided to pantries, but this project shows that it can be done," she said. "Just smart small and grow from there. We think that fresh, healthy food should be a right and not a privilege."

Danley-Greiner is a freelance writer from Runnells.