Farming and Family Ties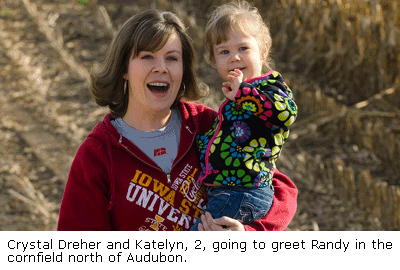 As I photographed the Iowa harvest this fall, it struck me how family remains a big part of Iowa agriculture. Some would have you believe that today's agriculture is a corporate affair, but nothing could be farther from the truth.

It seems whenever I meet a farmer, it doesn't take long before there's a reference to a family member. It's usually something like "Well, I farm with my dad and my two brothers." Then the discussion usually leads to connections to grandparents, uncles, aunts, cousins and in-laws. For many farmers it would be difficult to make a go of it without the support of a family member.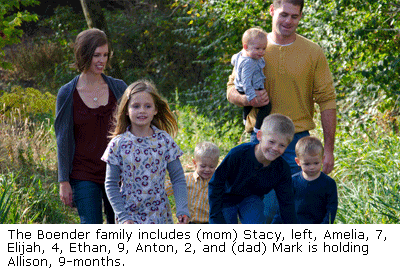 Randy Dreher of Audubon, is thankful to his grandfather, who bequeathed him a about a 30-year-old combine, which runs great according to Randy, and some other equipment which for now allows him to invest in other areas of the business. Randy is also fortunate to share a harvest dinner break with his wife, Crystal, and two-year-old daughter, Katelyn.

Mark and Stacy Boender have five delightful children in their family. The Boender's farm near Oskaloosa is not far from his dad's place, Steve and Janet Boender, which is not far from his brother Mike's place, which is not far from his brother Kurt's place, which is not far from his brother Karl's place, which is not far from his brother B.J.'s place. Mark joins his brothers as fourth generation farmers.

Steve Boender had most of the family together this week during harvest and hosted a Belgium TV crew doing a documentary in the Midwest. "We've never been filmed before in our lives," said Steve, "and recently we've had a couple of film crews and foreign visitors stop by."

Another family I met with strong working ties is the Jason and Amy Boyer family, owners of the Harvest Barn Marketplace east of Osceola. All three of the Boyer children are involved in the seasonal business.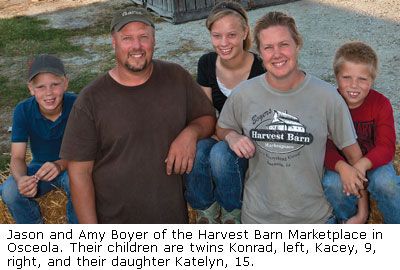 Cousins Brian and Doug Sampson also work together farming near Roland. The two sort of watch each other's back, giving them some free time to spend with their own families.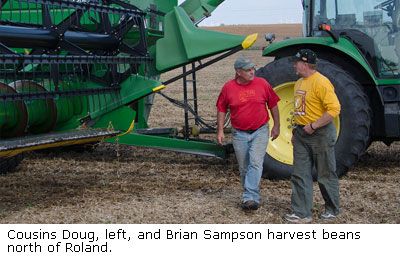 It's been a difficult year for most Iowa farmers because of the drought. But the being together as a family at harvest helps to make it all worthwhile. Isn't that what makes Iowa…Iowa?

Written by Gary Fandel
Gary is the photographer for Iowa Farm Bureau.