Farmers remain committed to food safety and animal care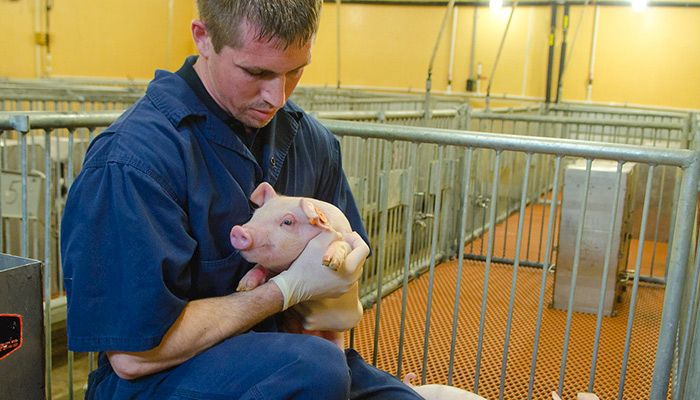 When we choose to buy real meat and poultry for our dinner table, we trust that farmers are doing whatever they can to ensure food safety and provide the best possible care for farm animals.
Iowa farmers are committed to the continuous improvement of their farming practices. Just like teachers take continuing education classes to stay up-to-date on curriculum, the vast majority of U.S. livestock farmers — including cattle, pig and dairy farmers — voluntarily participate in what's known as quality assurance programs.
These farmer-funded educational programs provide the latest training to farmers and their employees on food safety, animal well-being, environmental stewardship, workplace safety, public health and community relations.
"We want to make sure we are providing safe, nutritious food back to our customers ...," explains Dinah Peeples, manager of certification programs at the National Pork Board. "This is top of mind for our farmers as they are working. It's about food safety, but also animal well-being and taking care of their animals."
The Pork Quality Assurance (PQA), launched more than 30 years ago by U.S. pig farmers, offers training and on-site assessments for farms of all types and sizes, whether it's a 4-H member with a few show pigs or a conventional pig farm, Peeples explains.
More than 71,000 U.S. pig farmers have achieved PQA certification, according to the National Pork Board in Clive, which administers the program.
In total, about 85% of U.S. pigs are raised on PQA site-assessed farms, Peeples says.
U.S. pig farmers support the PQA program because they want to do the right thing for their animals and their customers, Peebles says.
In fact, some farms require employees to renew their PQA certification annually, Peebles adds. It's recommended that all new employees complete the PQA training within 90 days of starting work.
"It basically represents (farmers') commitment to their farms and to their industry and what they do," Peebles says. "They enjoy raising these animals, and their families are consuming (pork) too. So they want to make sure they are caring for everything."
The PQA program is also a farm-to-plate collaboration. Large-scale customers, including Walmart and Burger King, have sent their own animal well-being specialists to go through the PQA training, Peebles says. In addition, many meat-processing companies require farmers be PQA certified to provide pigs to them.
To become PQA certified, farmers and their employees must participate in a training seminar, either online or in person, with a PQA advisor. Qualified PQA advisors are extension specialists, veterinarians or other ag educators.
The second step of certification is an on-farm assessment by a PQA advisor. The advisors walk through the barns, making sure that the pigs have enough space to move around comfortably and that each pig has access to clean food and water, Peebles explains.
PQA advisors also inspect farm records to ensure that any needed medications are used correctly and that animals are getting the proper nutrition.
"Sometimes it's helpful to have that fresh set of eyes come out to the farm," Peebles says. "Because we can sit in our office and walk past something every single day and might not even notice it."
If a PQA advisor finds a non-compliance issue on a farm, the advisor works with the farmer to create an action plan and then follows up to make sure the issue is corrected, Peebles says.
Farmers and their employees must renew their PQA certification every three years. The PQA curriculum is continuously updated as needed if a new food safety or animal health issue arises, such as the recent Asian swine fever outbreak in China.
"The biggest thing is making sure we are providing safe, nutritious, wholesome pork and taking care of our animals in the process," Peebles says.
Return to The Iowa Dish