Farm Families Give Iowa State Fairgoers Plenty to "Chew On"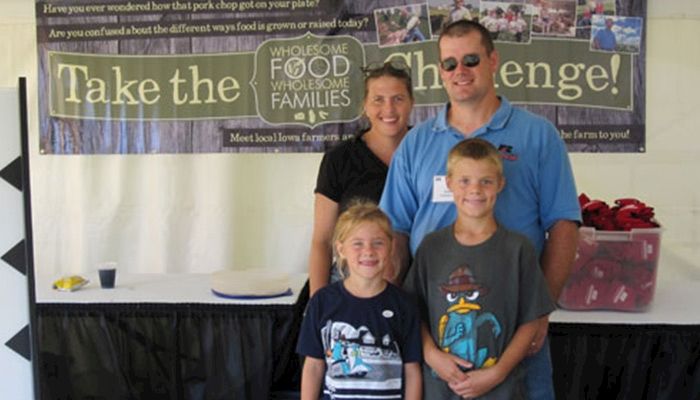 Thousands of Iowans dropped by Farm Bureau Park during the 2010 Iowa State Fair (August 12-22) to visit with and learn from the farm families who make "pork chop on a stick" and other fair favorites possible.
Each day at the Park featured two different farm families, quizzing visitors about various facts relating to food and energy. Correct answers were rewarded with Plinko chips that game participants used to win prizes, including $4 in coupons for meat, dairy and produce.
In total, 20 farm families, representing the diversity of agriculture in our state, came out to the fair to visit with their fellow Iowans. Here are just a few.
Deleware County farmer Liz Nieman chatted with fairgoers (young and old) about her family's farm – which raises beef cattle, hogs, corn and soybeans – and her blog, "Life as an Iowa Farm Wife."
"I had a great time! It was just as educational for me as it was for the fairgoers! I think it is vital for farmers to have a personal connection for consumers. I love talking about my family's involvement in farming and being a resource for people with questions about how I produce the food that ends up on their plates. " – Liz
Waukon farmer Kyle Holthaus and his family spent Sunday morning chatting with Farm Bureau Park visitors. His young children even got in on the act, handing out stickers with the family's farm (KyMar Acres) and website. KyMar Acres has sheep, herbs, flowers and conventional vegetables that are sold at area farmers' markets, regional hospitals and schools.
Albia farmer Tim Kaldenberg, wife Cindy, and son Layne quizzed fairgoers the last Friday of the Fair. The Kaldenbergs raise cattle, corn and soybeans. You may recognize the Kaldenbergs from Farmers Feed US.org.
"Too often people get their facts about agriculture from short sound bites in the news. It's important for consumers to have an opportunity to meet us [farmers] face-to-face and have a chance to ask their questions. It's more believable."
- Tim
Layne Kaldenberg, son of Tim and Cindy, gets a chance to play teacher a week before the start of the new school year.
Sara Adrian of Fairfield helps a young farm expert start her Plinko chip. Sara and her husband Tony raise cattle, sheep, corn and soybeans.
"I really enjoyed sharing information about my family's way of life with fellow farmers and consumers. My favorite parts were the smiles on the kids' faces when they answered a question correct and received their Plinko chip, and I loved the anticipation and excitement [of fairgoers] as they waited to see where their chip would fall."
Blake White quizzes two fairgoers. White raises cattle, corn and soybeans on his farm near Centerville.
Morey Hill and wife Rhonda spent a morning chatting with fairgoers about their farm near Madrid, which raises sheep, chickens, corn and soybeans.
"I think it's important to show people we raise the safest food supply in the world, and a great way to do that is to simply talk with people at the fair."
- Morey
Written by Zach Bader
Zach is a Communications Specialist for Iowa Farm Bureau.