Farm Bureau: It's good for all of Iowa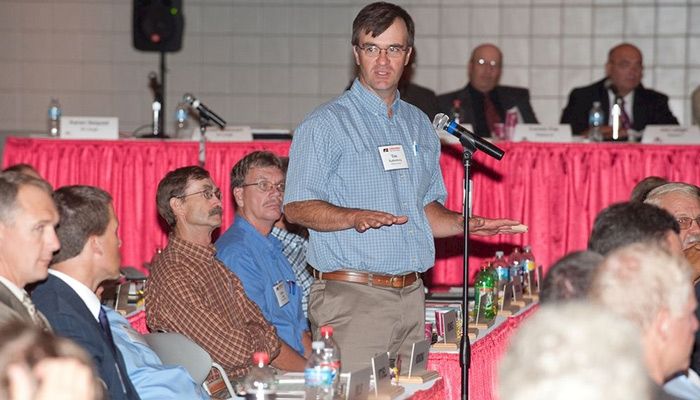 We've just completed the 2014 annual meeting of the Iowa Farm Bureau Federation. It was the organization's 96th annual meeting, if you are keeping count.
As always, there was a lot of important business accomplished at this year's gathering. It was also a great time to catch up with old friends and make new ones.
I nearly lost my voice from visiting with friendly folks from all over the state. We talked about the 2014 harvest and a range of livestock issues.
But mostly we talked about families. We discussed kids in college and caring for older parents. I listened to grandparents beam about the joy of having grandkids toddling around the house. One member even announced he was looking for a young farmer to entice his daughter back home to Iowa from the East Coast.
The cozy, inclusive atmosphere at last week's IFBF annual meeting was a stark contrast to how darkly the organization was portrayed in an opinion piece in the Dec. 1 Des Moines Register. The warmth and openness of the annual meeting really showed how little the writer, the head of a group called Citizens for a Healthy Iowa, knows about Farm Bureau and how far off base his article really was.
The writer ticked through the dusty litany of old complaints about Farm Bureau. He claimed that the organization supports only big farms, that its members don't care about the environment, and that Farm Bureau tries to influence the political process.
The first claim about big farms couldn't be further from the truth. More than 60 percent of Farm Bureau members operate less than 500 acres. And just check out this
letter to the editor from aronia berry farmer Andrew Pittz
about the support Farm Bureau has given his non-traditional farm.
The second charge is laughable. I can't tell you the number of members that I have visited who continually work to stem soil erosion and improve water quality, and Farm Bureau is serious about helping them do that. In fact, the $9.5 million in state conservation cost-share funding Farm Bureau lobbied for in 2014 resulted in 2,382 Iowa farmers investing in $13 million of their own money in conservation, creating $22.5 million in practices to protect our soil and water. That's just a recent example. (For more information, visit
www.conservationcountsiowa.com
)
Members from Iowa's 100 county Farm Bureaus meet in Des Moines annually to create Iowa Farm Bureau's policies.[/caption]
OK, the third charge is true. Through a grassroots approach, Farm Bureau does develop state and national policies to influence legislation that member families believe will be good for agriculture, the environment and our state. Lawmakers listen because they know Farm Bureau's policies start with their constituents out in the country – the farmer members of Iowa's 100 county Farm Bureaus. It's what Farm Bureau has done for nearly a century.
I don't know much about Citizens for a Healthy Iowa (the web site says they are a 501c4, but little else about who they are or what they've done for Iowa. Turns out, the IRS revoked their non-profit status because they failed to file.) But I can tell you from first-hand experience that Farm Bureau is a deep-rooted organization of 156,000 Iowa families working to build a better Iowa for themselves, their children and for generations to come. And it's great to be a member. (Learn more at
www.iowariseup.com
)
By Dirck Steimel. Dirck is Iowa Farm Bureau's news services manager.