FB thanks dairy farmers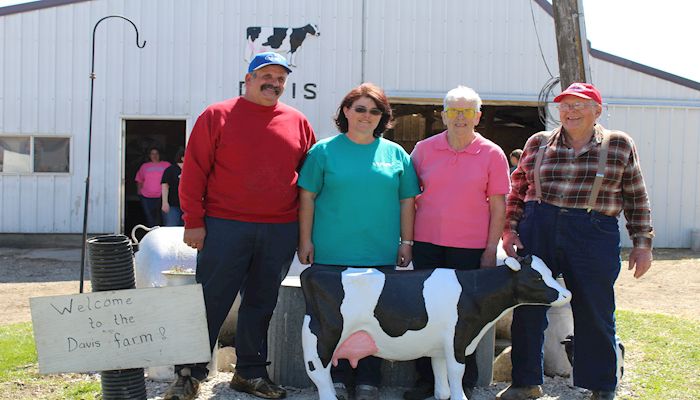 National Dairy Month (June) is an annual celebration that began in 1937 and serves as a time to reflect on dairy foods and the industry that makes it possible. Humboldt County Farm Bureau would like to thank everyone at Davis Dairy for their continued commitment to providing wholesome, great tasting milk. The Davis Dairy is a third-generation family dairy farm that takes pride in bringing the best possible products to your family. It began small and simple in 1903 with 120 acres and milking a handful of cows by hand. Today, 114 years later, they are the only dairy farm left in Humboldt County and are home to 70 milk cows and 400 acres. Milk from Davis Dairy is sold to AMPI in Sanborn, Iowa, where it is made into cheese and sold worldwide.
The Davis family is also very committed to dairy and ag education through classroom presentations and farm tours. Each year they host a Farm Day inviting more than 450 elementary students from Humboldt and the surrounding area to experience life on the farm firsthand.
National Dairy Month is a great time to thank your local producers and start the summer with "3-A-Day" of nutrient-rich dairy foods. From calcium to potassium, dairy products like milk contain nine essential nutrients which may help to better manage your weight, and reduce your risk for high blood pressure, osteoporosis and certain cancers. Whether it's protein to help build and repair the muscle tissue of active bodies or vitamin A to help maintain healthy skin, dairy products are a natural nutrient powerhouse.
To learn more about the dairy industry, visit www.iowadairy.org or www.midwestdairy.com.