FB leaders highlight value of trade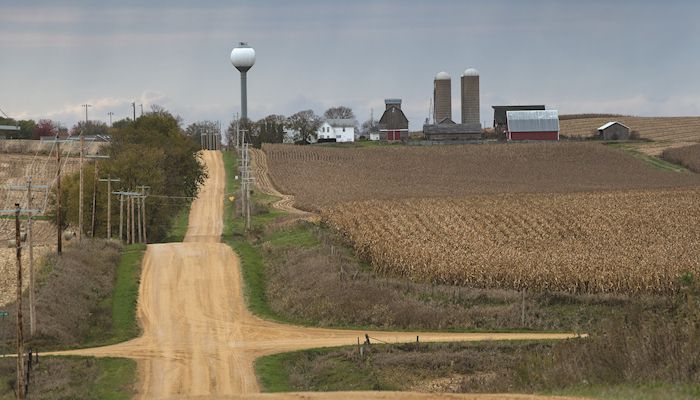 Farm Bureau leaders from Iowa strongly emphasized the value of international trade as they met last week with members of Iowa's congressional delegation in Washington, D.C.
The farmer leaders from all over the state urged lawmakers to keep up the pressure on the Trump administration to successfully renegotiate the North American Free Trade Agreement (NAFTA). They also urged the lawmakers to push for the United States to re-enter the TransPacific Partnership (TPP) and to negotiate other agreements to reduce tariffs and increase meat and grain exports.
"We need to keep our international markets open. It seems that 99 percent of our income is tied to exports now days," said Kevin Holst, a Scott County Farm Bureau member who raises row crops and cattle. "I really worry that we are going to get behind other countries that are working on deals while we are fighting about trade here."
Dubuque County Farm Bureau member Craig Recker said international demand has become essential for the cattle farm he runs with his two sons.
"We need the international markets to keep this thing moving," he said, "Beef production is rising all the time, and we are gaining in the export markets now, but we don't want to lose it."
In addition to urging continued support for trade, the Iowa Farm Bureau leaders stressed the need to protect the Renewable Fuels Standard (RFS). They also highlighted the importance of maintaining a robust crop insurance program and other safety net provisions in a new farm bill, the need for changes in the Conservation Reserve program (CRP) and support for commonsense rules to exempt farmers air emission rules meant for industry.
The potential of trade disruptions, or even trade war, is a big concern for agriculture, said Kipp Fehr, a Palo Alto County Farm Bureau member. "A trade war, or even the threat of a trade war, would be devastating for our markets," he said.
Dairy farmers Dave and Pam Bolin of the Butler County Farm Bureau said exports have also grown into a key driver in U.S. milk prices and it's important to have trade agreements.
"We want to be able to provide dairy products around the world, especially the developing world, and we need to have trade agreements and open markets to do that," Pam Bolin said.
Iowa farmers also urged their congressional representatives to continue to protect the RFS from another round of attacks from the oil industry. They also pushed for year-round sales of E15. Sales of the 15-percent-ethanol fuel blend are currently restricted during the summer months.
"The RFS is key for us," said Story County Farm Bureau member David Greiner. "I'd say 80 to 85 percent of the corn from our farm goes to the ethanol plant. It's given us another good market outlet and helped to stabilize our prices in a down market," he said.
Nick Larson of the Hamilton County Farm Bureau said it was important to support Iowa lawmakers as they fight for the RFS. "We need to keep up the pressure because we don't want the big oil interests to get the EPA (Environmental Protection Agency) to get rid of it," he said.
Crop insurance support
The Iowa Farm Bureau members also highlighted the value of crop insurance as Congress prepares to write a new farm bill. Crop insurance has become an essential tool for farmers as they work to set up their marketing plans, noted Kevin Meyer, a Bremer County Farm Bureau member.
"It does really help us develop a marketing plan with the depressed prices that we are facing now," Meyer told Rep. Rod Blum. "These days you need to use different avenues to market our grain, and crop insurance helps us do that."
The Iowa Farm Bureau leaders also pushed for changes to the CRP in the new farm bill. CRP rates need to better reflect the land markets and the program should be targeted better to environmentally sensitive acres, not whole fields, they said.
"As young farmers looking for land to get started, we end up competing against the national government for land," said Eric Fynaardt, a Poweshiek County Farm Bureau member and member of the Iowa Farm Bureau Federation Young Farmer Advisory Committee. "That is making entry to farming harder, and it's hurting our rural towns."
Laura Cunningham of the Floyd County Farm Bureau agreed that the CRP needs to be revamped. "Young farmers really face a hard time getting land now, especially pasture."
Changes to the CRP
Concerns about the CRP are catching the attention of lawmakers. Last week, Iowa Sens. Joni Ernst and Charles Grassley, along with two Senate Democrats, introduced a bill designed to refocus conservation dollars on marginal land to improve land access for younger farmers while protecting the environment.
Among other things, the bill would make most prime farmland ineligible for CRP enrollment, keep CRP acreage at 24 million acres nationwide and would limit rental rates in the general sign-up.
The Farm Bureau leaders also expressed support for a measure that would exempt livestock farms from being forced to report emissions through the Comprehensive Environmental Response, Compensation and Liability Act (CERCLA) Act.
Bills in both the House and Senate would clarify that normal emissions from farm animals and their manure are not reportable under CERCLA, overturning a court ruling.
"The exemption to CERCLA law is particularly important to us as livestock producers," Brianne Streck, a Woodbury County Farm Bureau member, told Grassley. "This court decision doesn't make sense, and it's not the intent of the law," she said. "Also, we worry that by reporting we could be put on some registry that activists could use against us."