Exploring Iowa: A to Z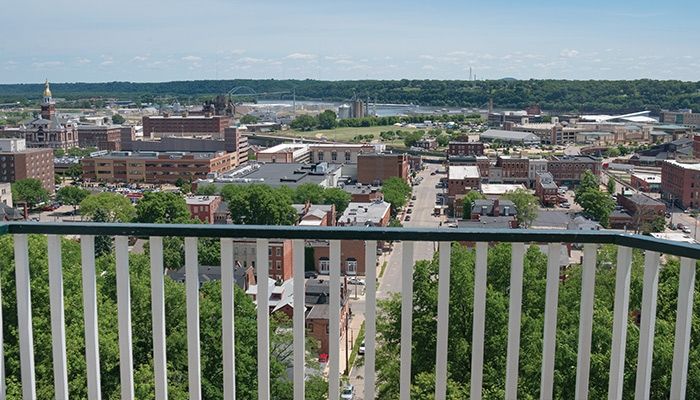 Iowa offers a long list of things to see and do — everything from museums and historic sites to state parks, entertainment venues and local celebrations. So as you start mapping out your summertime plans, here is an A to Z look at some possibilities to consider.
Anamosa:
This eastern Iowa community is home to a host of interesting attractions, including the Grant Wood Art Gallery, the National Motorcycle Museum and the Anamosa State Penitentiary Museum.
"Buffalo Bill" Cody:
William "Buffalo Bill" Cody, the legendary Old West figure, was born in Iowa. His life is memorialized in a museum in LeClaire and at his original homestead in rural Scott County.
Cedar Rapids:
Iowa's second largest city is home to many options, from the National Czech & Slovak Museum and the Iowa Children's Museum to the Cedar Rapids Freedom Festival and many other events.
DeSoto National Wildlife Refuge:
Located along the Mis­souri River, this 8,000-acre refuge offers good wildlife viewing opportunities, especially during the spring and fall waterfowl migrations. The visitor center also houses many historic artifacts from the steamboat Bertrand, which sank in 1865.
Effigy Mounds National Mon­­ument:
Explore 11 miles of wooded trails winding among the Mississippi River bluffs in this scenic park, which is also home to one of the largest concentrations of American Indian burial and ceremonial mounds.
Fenelon Place Elevator:
Take a ride on the world's shortest (296 feet) and steepest scenic railway, which was built in 1882 by a Dubuque businessman to shorten his daily commute.
Great River Road National Scenic Byway:
Stretching 3,000 miles from northern Minnesota to the Gulf of Mexico, this byway runs alongside the Mississippi River and passes through hundreds of river towns in Iowa and nine other states.
Historic homes:
There are many historic homes in Iowa to explore. Terrace Hill (Des Moines), Brucemore (Cedar Rapids), Salisbury House (Des Moines), General Dodge House (Council Bluffs) and the Hitchcock House (Lewis) are a few examples.
Iowa State Capitol:
Overlooking downtown Des Moines, the historic state capitol is worth a look, either on a guided tour or on your own. Be sure to checkout the ornate State Law Library.
John and Mary Pappajohn Sculpture Park:
Managed by the Des Moines Art Center, this critically acclaimed park adds to the "hip vibe" of downtown Des Moines and offers an up-close look at world-class art.
Keokuk National Cemetery:
The City of Keokuk boasts a rich history that dates back to the state's first settlers. The National Cemetery is the final resting place for thousands of American soldiers, many of whom died during the Civil War while being treated in the Union military hospitals once located in Keokuk.
Living History Farms:
One of the state's top attractions, Living History Farms offers a great way to reconnect with what life used to be like in Iowa. It's hands-on learning (with an agricultural focus) at its best.
Muscatine:
Where did buttons come from before plastic? You can find your answer at the Muscatine History and Industry Center in Muscatine, once known as the "Pearl Button Capital of the World."
National Mississippi River Museum and Aquarium:
Located in Dubuque, this attraction features both indoor and outdoor exhibits offering a look at the history and culture of the river. You can also visit the steamboat William M. Black, a National Historic Landmark.
Okoboji:
Enjoy all kinds of family fun in the popular Iowa Great Lakes region. Arnolds Park Amusement Park is a top attraction along with plenty of other recreational activities.
Pike's Peak State Park:
This picturesque park features nice trails and hilltop views of the Mississippi River, but it's just one of the many quality parks and recreation areas found throughout Iowa.
Quiet bike rides:
Iowa has a well-deserved reputation for bicycling thanks to hundreds of miles of trails found statewide. So take time to experience the sights and sounds of Iowa's landscapes on two wheels.
River trails:
Iowa also has a number of designated water trails for those interested in exploring the state's rivers and lakes via canoe and/or kayak. These trails offer a perfect way to enjoy the state's scenery and natural areas from a different vantage point.
Sioux City:
Palmer's Old Tyme Candy Shoppe, the Lewis & Clark Interpretive Center, the Sergeant Floyd River Museum & Welcome Center, the Sioux City Art Center — the list of things to see and do is long, so allow for plenty of time.
Traer Salt and Pepper Shaker Gallery:
You have to see it to believe it. This Traer museum features a quirky, cool collection of 16,000 sets of salt-and-pepper shakers.
University of Iowa:
You will need a few days in Iowa City to take in the Athletics Hall of Fame and Museum, the Medical Museum, the Museum of Art, the Museum of Natural History and the Old Capitol Museum — all at the University of Iowa.
Villages of Van Buren:
Step back in time while visiting these 12 southeastern Iowa villages. The area includes two National Historic Districts, as well as op­­portunities for shopping, dining, antiquing and much more.
Winterset:
The famed Covered Bridges of Madison County are still a popular draw for tourists, but taking time to visit the John Wayne Birthplace Museum should also be on your agenda when visiting this county seat.
X-factor:
This represents things never tried before, so go visit some off-the-beaten-path attractions around the state. Be adventurous!
Yearly events:
There are hundreds of annual events held across Iowa. Well-known offerings, like the Iowa State Fair and the Des Moines Arts Festival, attract hundreds of thousands of people, but there are plenty of other options to enjoy some food, fun and hospitality.
Zip-lining adventures:
Exper­ience Iowa's countryside from a different (and more thrilling) perspective by giving zip-lining a try. Dubuque, Waterloo and Cedar Rapids all offer nearby options.
Final advice:
Visit the State of Iowa tourism website at
www.traveliowa.com
for information on even more options and enjoy your summer!
Yontz is freelance writer from Urbandale.