Environmental Inspiration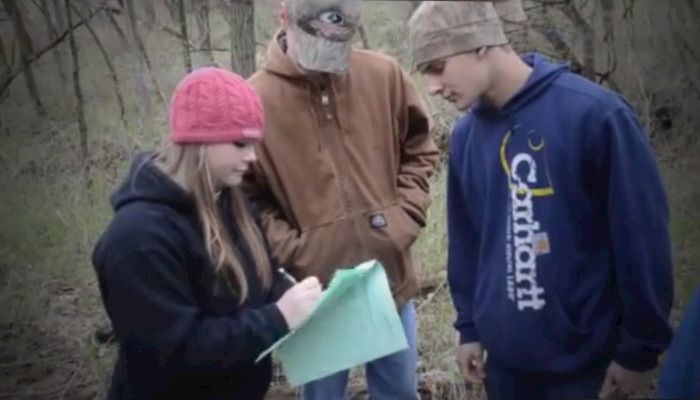 Earlier this week, I hung out with some kids who really dig the environment. (So much that they were actually digging in the environment. Not kidding. They took turns climbing into a six-foot-deep hole to get a closer look at dirt.)
Fifteen teams of high school kids from schools around the state were studying soils and skeletons and focusing on forestry and waterfowl at the Iowa Envirothon competition held at Springbrook State Park near Guthrie Center.
In its sixteenth season, the Envirothon is the state championship of natural environment knowledge. The students journey around the park, answering questions about wildlife, aquatics, soils and forestry. In addition, they also offer a presentation that attempts to solve an environmental concern or issue.
If the students are good, their team finds its way to the national competition held in New Brunswick, Canada, this summer.
But, if the students are lucky, they find a lifelong passion for the environment and a possible career path.
That's what I learned from talking to James Lindgren, a high school senior and member of the Marshalltown Muskoxen team during their work at the wildlife station.
James was handling an evacuated turtle shell as I asked him why he was a returning contestant in this event. It quickly became clear that this wasn't a one-way ticket to a day out of school. For James, the Envirothon has helped him create a map for his future.
"It's important for students to really understand the power of conservation and protecting the natural environment," explained James. "In school, the only class that's even close to this is biology. This event has definitely offered more…more perspective, more understanding.
At college next year, James plans to major in environmental studies with an emphasis in global health and conservation. "I want to work as a field rep for a group like the Department of Natural Resources or the National Resources Conservation Service; maybe even look into environmental law."
He's quick to add that he probably wouldn't have considered this major without his Envirothon experience. "It's not all about identifying plants and animals. It's about truly learning how to conserve this natural environment and understanding our role," said James.
Talk about a kid who digs nature. And he's just one of many young people who aspire to help make our planet a better place. It's a very heartening and inspiring message for this week's Earth Day celebrations.
The Iowa Farm Bureau Federation has been a long-time supporter of Iowa youth and the Envirothon. To learn more about the Iowa Envirothon, go to
www.cdiowa.org/envirothon.html
.
Written by Heather Lilienthal
Heather is a recovering ag reporter, now working as a communications specialist with the Iowa Farm Bureau. (She still enjoys having a cup of coffee after hanging out with farmers in hog houses and cattle feedyards.)