Empowering women in ag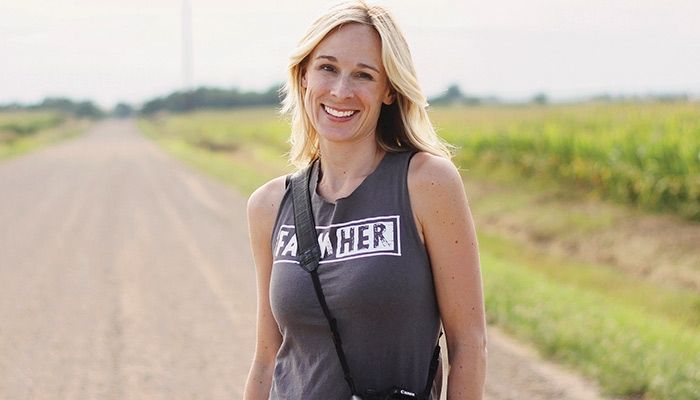 What started as a simple photo project has blossomed into an empowerment movement.
"I really didn't know what I would see when I first went out," says Marji Guyler-Alaniz, of those first few trips to the farm with her camera. She knew she wanted to photograph women farmers in their native habitat. What the lens found were women in touch with their inner selves, their land, their livestock, their lifestyle. Empowered women. Women with the potential to empower others.
And so the FarmHer journey began.
"We're more of an empowerment movement than an educational movement," says Guyler-Alaniz, founder and president of FarmHer. "It's about who these women are, what they do, why they are in agriculture. It's about setting an example for young women and inspiring women who are out there to keep doing what they do — and let others know about it."
In the three-and-a-half years since Guyler-Alaniz released her first photos of women on the farm, FarmHer has seen phenomenal growth into a full-blown brand. Images, merchandise, magazine spots, conferences, public appearances and an upcoming television show offer outlets for the message.
"It's become an online community as well as a communication vehicle," says Guyler-Alaniz, "where people can connect, share. We're tapping the essence of what is affirming to women in agriculture."
FarmHer will rise to a new level with "FarmHer – Shining a Light on HER" set to begin airing on RFD-TV Sept. 9. The weekly, half-hour program is expected to reach more than 50 million households across the nation. "It's exactly what FarmHer has always been, but now video can bring the stories to life," says Guyler-Alaniz.
The movement will also be highlighted through a series of GROW conferences aimed at young women. Uniquely designed for the 15- to 23-year-old set, the conferences offer insight from ag practitioners and professionals into real-life skills needed for success.
"If we want the next generation to produce our food, we have to connect with them in new and different ways," says Guyler-Alaniz. "That means social media, video, and one-to-one connections like they will find at GROW."
"If they can see it, they can be it," she adds.
After a successful conference last year brought in more than 250 attendees and rave reviews, a more active line-up is scheduled for this year. This season's first GROW event is scheduled for Sept. 23 in Ankeny, followed by one Nov. 9 in Lincoln, Nebraska. Stillwater, Oklahoma, and University Park, Pennsylvania, are booked for early next year, with more to come.
Another new addition, a 36-foot trailer wrapped in FarmHer images has enabled a traveling gallery, making stops at the Iowa State Fair, Farm Progress Show, Husker Harvest Days, the National FFA Convention and other venues.
Despite the growing exposure and a business enterprise that keeps Guyler-Alaniz, two employees and two interns busy, it is still the women on the farm who take center stage.
"Women have always been an important part of ag," says Guyler-Alaniz. "But you haven't always seen that."
What the rest of us may have missed, Guyler-Alaniz's camera captures.
"When I get to the farm, I want to see what women do," she explains. "How they grow their crops or care for their animals. I want to see how they live, the community they create. When I find that, I can show who they are."
Her hope is other women, particularly young women, will see themselves through these images and see that they, too, can have a role to play in agriculture.
By shining a light on women engaged in agriculture and offering a platform for those women to engage with each other, Guyler-Alaniz dwells on the very real aspects of the role women play in ag.
"Nothing bothers me more than going to an ag conference and the women's events are shopping trips for the wives. There's certainly nothing wrong with shopping, but it doesn't help the image of women who play a tangible part in production agriculture. Everyone is out there on the same level playing field, and this helps create a platform to show that.
"That said," Guyler-Alaniz continues, "I do believe men and women communicate differently. Women have more of a networking mindset."
The FarmHer website, with its blog posts and lively comment interaction, creates the perfect platform for that network.
"I wanted there to be a place where if a woman has lost a calf or had a rough day, she can talk to others who have been through the same thing. It's about creating a supporting community."
She also hopes the FarmHer movement will help open consumers' eyes by showing a sometimes softer side of the ag picture.
"Women bring a certain beauty to agriculture that we don't always see," says Guyler-Alaniz.
As for the future, Guyler-Alaniz says she is "open to all things that come our way," as she and her team continue to juggle the growth spurt with the message.
"We want to keep growing, hosting events and supplying the support network," she says. "And I intend to keep photographing and sharing the stories of women in agriculture. Making that connection is why I love doing what I love."
See
www.farmher.com
for more on upcoming events.
Queck-Matzie is a freelance writer from Fontanelle.