Eat local. Eat healthy.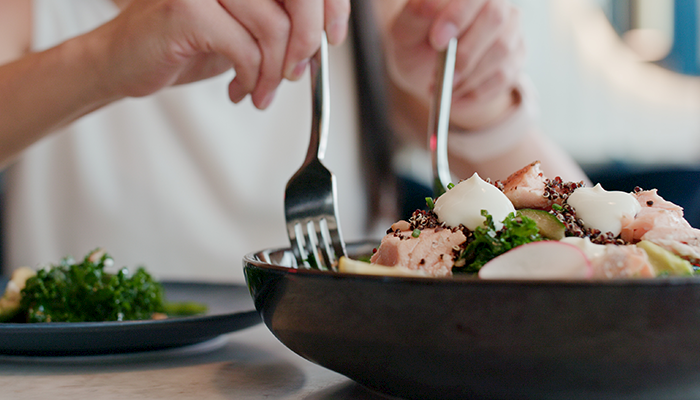 Iowa growers and farmers markets are committed to providing safe, nutritious foods. This summer, they are adapting to help prevent the spread of COVID-19 by offering online and on-farm sales, curbside pick-up and socially distant farmers market events.
"From the conversations I've had with (farmers market) managers, all of them recognize that this is a serious issue, so all of them are taking special precautions to make sure that they are giving you safe produce," says Shannon Coleman, a food microbiologist and assistant professor in food science and nutrition at Iowa State University (ISU).
Just like other small businesses, farmers markets play an important role in our state.
According to Iowa State University, farmers markets in Iowa contribute an estimated $59.4 million in gross sales to the state economy, generating $17.8 million in payroll and nearly 600 jobs in the state.
Plus, farmers markets provide Iowans with nutritious, locally grown produce. Eating fruits, vegetables and protein-rich meat, as part of a balanced diet, benefits our immune system.
"This is a good opportunity to support your local farmers right now. They are providing fresh produce to you, and they are part of your economy in your area," Coleman says.
Over the past year, many Iowa farmers have participated in statewide Produce Safety Alliance training workshops, funded by a U.S. Department of Agriculture grant through the Iowa Department of Agriculture and Land Stewardship (IDALS).
Coleman, who helps conduct the training, says the workshops educate Iowa farmers on how to grow, harvest, store and transport their produce safely from the farm to the customers.
When Gov. Kim Reynolds allowed Iowa farmers markets to reopen this spring, farmers market managers also received training on food safety and COVID-19 precautions from IDALS and Iowa State University Extension and Outreach, Coleman noted.
"(The market managers) are meeting. They are talking best practices," Coleman says. "A lot of them are doing online sales, as far as letting people place their (online) orders ahead of time and then letting them pick it up at curbside. And some of them have said we might continue on with this. It's worked so well."
Keep in mind, the risk of getting COVID-19 from food, treated water or food packaging is very low, according to the U.S. Centers for Disease Control.
Currently, no cases of COVID-19 have been identified from touching food, food packaging or shopping bags, the CDC reports.
No matter how you choose to shop — either at the market, on the farm or online, it's important to safely transport and handle your fresh foods when you take them home to reduce your risk of food-borne illness.
Bring a cooler with ice for perishable foods like meat and eggs, Coleman says. Try to keep fresh meats separate from produce, especially vegetables you eat raw like salad greens or tomatoes.
Fresh foods should be placed in the refrigerator within 2 hours. So return home with your items as soon as possible, especially on hot summer days, Coleman says.
If you bring a reusable cloth bag to carry your fresh foods home, make sure to wash it once you get home.
"A lot of people like reusable bags as a sustainability item, but a lot of them don't wash the bags," Coleman notes.
This summer, the Iowa Farm Bureau donated more than 1 million recyclable plastic bags to more than 1,700 farmers market vendors throughout the state. The market bags help customers safely transport locally grown produce and foods home.
Once you arrive home, wash your hands for 20 seconds with soap and water before preparing food, Coleman says.
Clean fresh produce by washing and scrubbing under running water (temperature doesn't matter) and drying with a clean paper towel, Coleman explains.
And despite what you may have seen on Facebook, you shouldn't wash fresh produce with dish detergent or another produce wash. "That is not the recommended practice from the CDC and FDA (Food and Drug Administration)," Coleman stressed
For more COVID-19 food safety information, visit https://www.cdc.gov/coronavirus/2019-ncov/daily-life-coping/food-and-COVID-19.html.

Return to The Iowa Dish