Don't ignore holiday food safety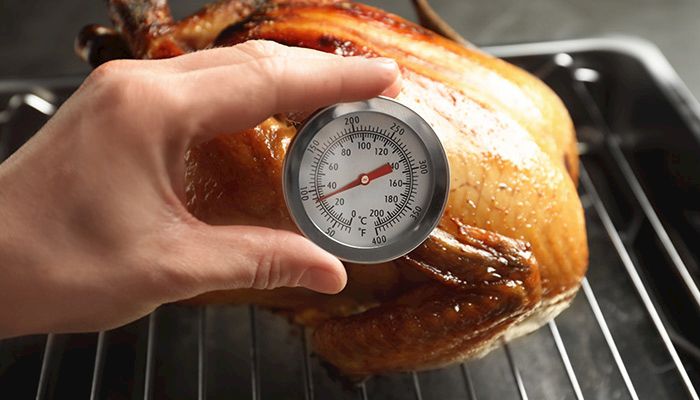 The holiday dinner table will likely look a lot different this season because of the pandemic.
Many of us are making plans to cook a holiday meal at home — perhaps for the first time without the help of Mom or Grandma.
No matter our skill level in the kitchen, it's important to keep food safety top of mind this holiday season.
The risk of food-borne illness increases during the holidays, as we prepare multicourse meals, give food to friends and relatives, and serve meals buffet style, says Shannon Coleman, Iowa State University Extension food safety specialist.
"Even during a pandemic, you don't want to get sick (from food-borne illness), especially during the holidays," Coleman says.
Coleman says her family is planning to prepare to-go meal boxes during the holidays for friends and relatives to pick up at the door, so everyone can still enjoy their favorite holiday dishes.
"I'm from Alabama, so the weather is not cold enough to stop us from barbecuing. So we will have barbecue for Christmas," Coleman says.
The U.S. Centers for Disease Control (CDC) confirms that there is no evidence that COVID-19 is transmitted by food. The risk of getting sick with COVID-19 from eating or handling food (including frozen food and produce) and food packages is considered very low, the CDC says.
However, other food-borne pathogens have the potential to cause serious illness if food isn't handled and cooked safely, Coleman says.
The CDC reports that more than 128,000 people are hospitalized, and more than 3,000 people die, each year from food-borne illness.
People with a compromised immune system, including young children, pregnant women, seniors and those with a chronic disease, are more at risk for food-borne illness.
Whether it's your first time cooking the holiday meal or you're always the designated holiday chef, remember to follow safe food-handling practices at home to reduce the risk of food-borne illness, Coleman says.
The Partnership for Food Safety Education offers the following top five food safety tips for the holidays — and every day:
Wash hands with soap and water, as well as clean surfaces often. "We've been telling people way before COVID got here to wash your hands with soap and water," Coleman notes. It's the easiest way to prevent food-borne illness at home. In addition, be sure to clean countertops, sinks and other surfaces before and after preparing different dishes, Coleman notes.
Separate foods by keeping raw meats away from ready-to-eat foods, including salads or any sides that are served uncooked.
Wash and dry all fruits and vegetables properly. The U.S. Food and Drug Administration recommends washing fresh produce under running water — not with a commercial produce rinse, bleach or vinegar. Use a disposable paper towel to dry produce after washing. "Even wash those onions," Coleman adds. "There was once a (food-borne illness) outbreak linked to purple onions."
Cook all foods to safe temperatures. Turkey should cook to 165 degrees, ham to 140 degrees, and beef and pork roasts to 145 degrees Fahrenheit. Use a food thermometer to ensure the meal has reached a safe temperature. Insert the thermometer in the thickest part of the meat. Using a food thermometer also helps to avoid overcooking.
Monitor the shelf-life of the leftovers. The typical shelf life for leftovers is about three to four days. Be sure to chill leftovers within 2 hours. (In other words, don't leave the turkey on the dinner table for snacking throughout the day.)
For more food-safety advice about preparing holiday meals at home, visit www.foodsafety.gov.
For more CDC recommendations on how to protect yourself and others from COVID-19, visit www.cdc.gov.

Return to The Iowa Dish