Don't forget the milk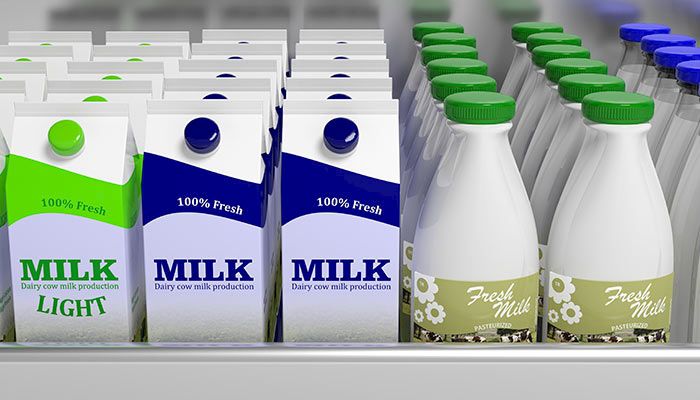 Going for a "milk run" to the grocery store isn't as simple nowadays. In the dairy aisle, you likely will find a variety of new products, such as almond, cashew and coconut drinks plus other plant-based beverages.
While it's always good to have options, real milk is still the best-quality choice, packing the most nutrition for your food dollar.
By skipping out on milk, your family is missing out on key nutrients that are essential for all ages — from kids to parents, says Alyson Fendrick, a registered dietitian with Midwest Dairy in Ankeny.
"Milk always has nine essential vitamins and minerals," Fendrick says. "So when you reach for your glass of milk, you know it's going to be safe. You know it's going to be nutritious. And it's a clean, clear label. So it's the easy choice for your family," Fendrick says.
Nutritionally, milk is best known as a good source of natural calcium, which benefits bone and teeth health. Fendrick says the more calcium we consume in our younger years, the better our bone health will be as we age and become more susceptible to broken bones from falls.
"Dairy milk actually has the richest source of well-absorbed, naturally occurring calcium, which means that it's more readily available than some of the alternatives with calcium added during the process of making that beverage," Fendrick says.
Milk also excels in its protein quantity and quality, Fendrick says. Most nut-based beverages, like almond drinks, contain 1 gram of protein. Cow's milk offers 8 grams of protein per serving, Fendrick says. "So the protein is pretty low on those nut-based beverages," she explains.
Protein is a vital nutrient for all ages, Fendrick explains. Kids need protein to grow healthy muscles and bones as they get more active in sports. For older adults, protein helps boost our metabolism and prevent muscle loss that naturally occurs as we age.
Plus, for active adults, research shows that chocolate milk is a better exercise recovery drink than sugar-filled and protein-free sports drinks. Chocolate milk offers a good balance of carbs and protein to help replenish muscles after a workout.
Chocolate milk is also a nutritious choice for your kids. Yes, it contains more sugar than unflavored milk. However, studies have shown that kids tend to drink more milk when it's flavored.
"Those (milk) nutrients are super important to kiddos, and they aren't getting it in their diet from other areas. So we definitely think that chocolate milk is a great way for them to get (those nutrients)," Fendrick says.
The U.S. Dietary Guidelines recommend 3 servings a day of low-fat to fat-free dairy for adults and children, Fendrick says.
Easy ways to boost your family's dairy intake are to pack a cooler with single-serving milk bottles and snackable cheese sticks to take to sporting events or outings, she says.
Fendrick also says she likes to stash portable yogurt in the freezer ahead of time, and then let it thaw in the cooler, for a refreshing summer treat — no spoon required.
Return to
The Iowa Dish