Democracy on full display in Iowa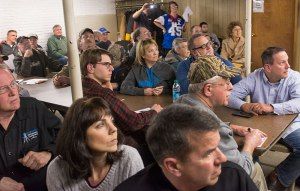 Democracy was on full display this week in Iowa's small towns and big cities, in school gyms, churches and many other sites around the states as citizens gathered for the Iowa Caucuses. They came out on the chilly Monday night with a snowstorm threatening. They gathered to respectively listen to presentations and discuss attributes of all the candidates. Then, after careful consideration, each caucus goer marked down or stated his or her preference of who should be president of the United States.
The Iowa Farm Bureau's photographer, Gary Fandel, looked in on a group of Iowans who caucused in a meeting room of the Heartland Co-op office in Malcolm. About 50 Republicans gathered at the Poweshiek County elevator, cast their votes and Melissa Doty kept the tally on an old-fashioned chalkboard.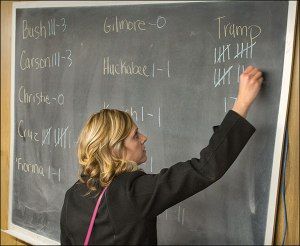 In all, a record number of Iowans turned out for the caucuses on Feb. 1. The latest reports show the Republicans counted more than 180,000 caucus participants across the state, easily topping previous high mark of 121,503. Democrats also turned out in big numbers, but they were not expected to top 2008's record of 240,000.
Electing a president in America is a long process there are bound to be many twists and turns before the final voting in November. But there's really no better place to start the process than right at the grassroots: the Iowa Caucuses.