Covering up for conservation: cover crops take off in Iowa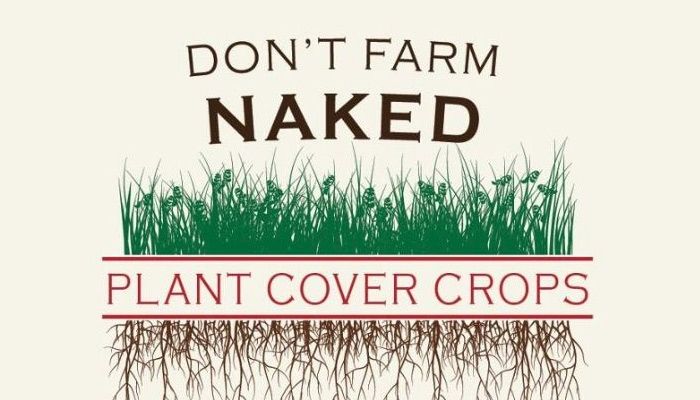 There's a new slogan in Iowa farm country these days: "Don't farm naked."
The slogan really has nothing to do with the clothing choices of Iowa farmers. (This fall and winter you can expect to see most farmers decked out in warm Carhatts; same as every other year.)
No, the slogan refers to the unprecedented push by Iowa farmers to plant cover crops this year to protect both their fields and help the environment. In every county of Iowa, you'll see newly-germinated seeds of winter rye, tillage radish, triticale and other plants just starting to push through the black dirt of the newly-harvested fields. The cover crops will stay on the fields through the winter months, acting as a blanket to protect the soil from wind or water erosion. Research has shown the cover crops will also significantly reduce the chances that nutrients, like nitrogen and phosphorus, will end up in Iowa's rivers, lakes and streams.
Then after the snows melt away and spring rolls around, the cover crops will be removed to make way for another planting of corn and soybeans and the cycle will start over.
Cover crops are one of the key tools outlined in the innovative
Iowa Nutrient Reduction Strategy
. The strategy is designed, in part, to help farmers voluntarily adopt practices which improve their soil and help keep nutrients from reaching Iowa's waters and eventually the Gulf of Mexico. In addition, the Iowa Nutrient Reduction Strategy works to reduce nutrient losses from waste water treatment plants, industry and other so-called point sources.
The response from farmers was very encouraging.
Within days of offering the cost-share dollars for those planting cover crops for the first time, some 1,125 Iowa farmers stepped up to try them out. In all, cover crops and other conservation practices has been adopted on nearly 121,000 acres.
Eventually IDALS increased funding to $2.8 million to meet the demand. That means that Iowa farmers are putting up $2.8 million, and likely much more, a pretty solid investment in conservation.
Iowa ag and conservation officials expect cover crop acreage to continue expanding as farmers become more familiar with the practice of having plants growing on their fields during the months between the fall harvest and spring planting.
A key to success in cover crops in Iowa is getting them seeded in time to germinate before the snows fly. That's why many of Iowa's cover crops were sown early by aerial applicators, who dropped the cover crop seed in standing corn and soybeans fields. The seeds eventually made their way to the ground and sprouted in the autumn sunshine. Other acres were planted right after the combines finished harvest as farmers rushed to beat the cold Iowa winter.
No matter how they are planted, cover crops will protect the soil and promote water quality. And Iowa farmers, no matter how they are dressed, are clearly stepping up for conservation.
For more information on conservation efforts in Iowa go to the Iowa Farm Bureau's
Conservation Counts
webpage.
By Dirck Steimel. Dirck is editor of the Farm Bureau Spokesman.