Conservation work second nature for farmer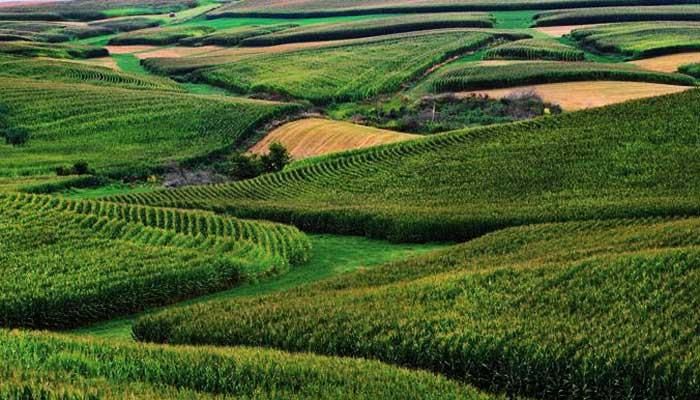 Bryan Mowrer of Guthrie County is a farmer who goes to sleep at night dreaming of terraces, who enjoys experimenting with cover crops, who can barely remember when they tilled the ground. And, as he emphasizes, he is not alone.
"I'm just an ordinary guy out here doing what everybody else is doing," says Mowrer.
Modern conservation methods are common on Iowa farms, and Mowrer is eager to let the public know. "Good conservation is mainstream," says Mowrer. "It's not unique. We just need to tell people about it."
Mowrer farms row crops, plus some pasture and hay ground on land that ranges from hilly to river bottom and includes a variety of soil types, including red clay. He also runs about 70 cows in his cow-calf operation, as much as available pasture will allow.
Mowrer's conservation work is extensive and growing. He utilizes an extensive terrace system and was an early adopter of no-till in the 1980s.
"Early on I had landlords who guided me and set the standard," said Mowrer, who is president of the Guthrie County Farm Bureau. "That's how they expected me to farm their land."
He now uses turn and buffer strips in his fields, and has utilized the Conservation Stewardship Program to limit nitrate usage and adopt variable phosphorous and potassium application.
It's been a good decision both for the farm and for the environment, Mowrer said. He now saves $30 to $35 per acre on inputs.
Planting cover crops
Two years ago, he tried cover crops on 80 acres. Last year, he increased to 140 acres and says there will be more this year.
"I wasn't sure I could believe the hype, and that first year I thought, 'This is just like planting into sod. This will never work.' But I sure can't argue now," Mowrer said.
He reduced soil erosion and nutrient runoff on his southern Guthrie County hilly ground and made strides toward the long-term viability of his land.
Like many new to cover crops, Mowrer was leery of the potential yield drag on corn and working the timing into his routine. "But now it's nothing when we chop silage to sow oats behind."
And there is cost – the cost of seed, and a plane to sow it. "It is an investment," says Mowrer. One many Iowa farmers are willing to make.
Iowa farmers invested $13 million to install and improve conservation practices last year. State funds added another $9.5 million to the pot, according to the Iowa Department of Agriculture and Land Stewardship (IDALS).
IDALS says 1,600 farmers invested $4.2 million over the past two years on water quality initiatives — money that was again matched by the state.
Mowrer says that is only part of the picture. He says many farmers grow tired of waiting on the government cost-share money and proceed on their own, making use of free consultations and advice, then doing the work themselves.
A conservation waiting list
There are currently around $18 million worth of requests pending from farmers and landowners for cost-share conservation practices, according to IDALS Communications Director Dustin Vande Hoef. That sometimes translates to two or three years on the ground for projects like a new terrace, Mowrer says.
Yet, it doesn't seem to deter farmers like Mowrer from making improvements. "I'd rather not have the government involved," says Mowrer, though he acknowledges the benefits of the help, with nearly all current cover crop users getting their start through cost-share programs.
Modern technology has made it easier for the conservationist. In the early days of no-till, equipment didn't always match the task, but times, like conservation practices, have changed. Now, not only does planting and application equipment do the job required, but monitoring equipment controls nutrient levels and planting practices. Row-by-row fertilizer application, on-spot soil testing, even auto-steer features that set a contour line for planting — all conserve money and resources and benefit the environment.
Whether the investment is in practices or tech tools, or utilizes public or private funds, it's an investment that can pay.
Mowrer's use of cereal rye (annual rye this year) as a cover crop has shown he can sequester up to 80 pounds of nitrogen. "That drops 80 pounds of nitrogen off my bill. Believe me, I'd rather keep those nutrients on my fields than pass them on to the guy downstream."
So how do farmers let the public know they are leading the conservation charge?
Mowrer says farmers just need to speak up. "We need to let the public know what we're doing. It's time for guys like me to get out there and talk about it."
After all, conserving resources and protecting the environment for all Iowans is business as usual for the state's farmers.

"Conservation is a mind-set," Mowrer said. "It's a long-term commitment. And we, as farmers, are on board with that. It's nothing new. We've been doing it all along. It's just how we farm."