Conservation creates opportunities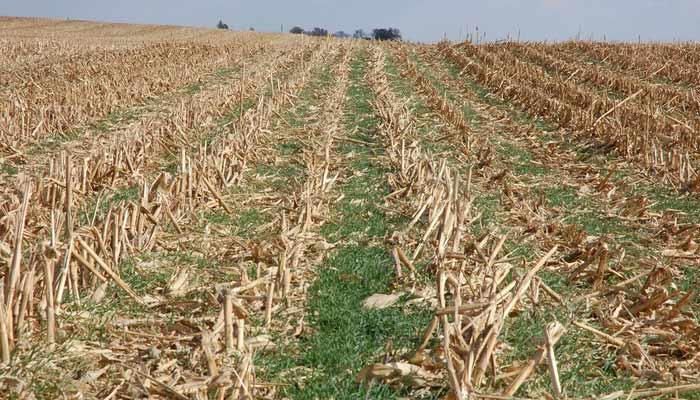 Employing good conservation practices can create opportunities to rent more acres or negotiate more favorable lease terms by catching the eye of farmland owners, farmers said during a panel discussion on working with landlords to improve conservation.
"One thing I've learned is that people are watching me, and that has enabled me to grow my operation," Benton County farmer Lance Lillibridge said during a seminar at the Iowa Power Farming Show. "In my opinion, that's a pretty good return on investment." 
Lillibridge started strip-tilling about 12 years ago after growing tired of seeing soil erosion on his conventionally tilled farms. 
"Getting rid of erosion was my big thing," he said. But he also immediately noticed tremendous savings on labor. 
"It's really scary to get rid of that old (equipment) to make that change," he admits. "Once you start seeing the benefits of it, you can make changes that are life-impacting."
Lillibridge has also added cover crops, strategically placed waterways and carefully tracked nitrogen usage on his farms. Over the years, he's reduced his nutrient input costs by around 40%.
The changes didn't go unnoticed. When one of his neighbors decided to downsize about five years ago, he recommended Lillibridge take over his rented acres. 
"I asked my neighbor, 'Why me?' And he replied, 'Because of the way you're doing things.'"
Neighbors are noticing  
Lillibridge said his conservation efforts have also been noticed by landowners. He noted one landowner had higher cash-rent bids in hand, but compromised on a lower number because he knew Lillibridge would take care of his farm.
"Our farm is our retirement. I want to make sure our retirement is the best it can be," he says. "It's the same with our landlords. We're taking care of their retirement."
Helping with costs
With more than 50% of Iowa's farmland rented, landlord-tenant discussions about conservation are increasingly important. 
Tenants can often motivate their landlords to help with costs if they can see the long term benefits to their farm, Lillibridge points out. He recommends taking landlords out into the field to show them differences in soil health where conservation practices are in place.
"If you can do things like that with a new landlord, you will ab­­solutely convince him. It's not always about the money," says Lillibridge.
Crawford County farmer Doug Gronau says he discusses the soil health benefits of no-till practices with landowners to demonstrate the importance of adding conservation practices on his rented acres. With one landowner in particular, he knew it would be important to explain why the land would look different. 
"I told him the land wouldn't be black after harvest in a no-till system," he said. "I explained why it was the right thing to do and he agreed it was worth trying."
The benefits of no-till were seen the following year. "We had a 5-inch rain in early June. The land near this rented farm had a disk run through it in the fall and spring, and then field cultivated," Gronau recalls. "The field was severely washed out and eroded by the rain. The damage to the field was devastating, and the debris even plugged a large culvert. But on our field, the crop and soil did not erode away."
Like Lillibridge, Gronau attributes his reputation of being conservation-minded with the acquisition of a new piece of rented land. 
"This landowner was raised in my neighborhood, and his tenant recently moved. Because he knew I used conservation practices to protect the soil, he asked if I would rent his land," he said. "He told me he trusts me to farm the land as I wanted."