Chinese Admire, Seek to Emulate Iowa's Family Farm Tradition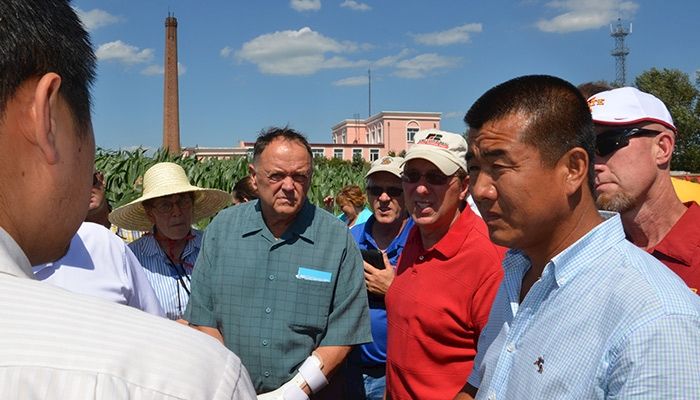 Nineteen Iowa farmers and a couple Farm Bureau staff members recently participated in Iowa Farm Bureau Federation's (IFBF) 12-day International Market Study Tour to China. In China, participants learned about Chinese culture, as well as opportunities and challenges for Iowa agricultural products. Stayed tuned to Farm Fresh for more stories about their trip!
Iowans next month will celebrate the state's Century and Heritage Farms (farms that have been in one family for 100 and 150 years, respectively). That strong tradition of generation after generation working to build farms and improve the land is the foundation of Iowa's strength.
It is also the envy of Chinese agriculture officials, participants in IFBF's recent International Market Study Tour learned.
Agricultural reform is priority one for China's government, to help feed the country's large and more urban population. And several Chinese agricultural officials told the Iowans that they dream of a day when China has a system of family farms which attracts young people back to the farm to carry on the tradition.
"We want to start a new era in China, an era of family farms," Tiezhu He, an official with the agricultural department of Hebei province, told the Iowa farmers during a seminar in Shijiazhuang, the sister city of Des Moines. "We are so impressed that you have strong farms in Iowa that are passed down from generation to generation. We think it could be a big part of adding to our food production."
The Chinese ag officials also said they believe that family farms, like those in the United States, are better for caring for and improving the land. "If a father is planning to pass the farm down to his sons or daughters, he wants to improve it and make it better," said He.
China, the country's ag officials readily acknowledged, still has a long, long way to go to reform its farming systems and meet the country's growing and changing food needs. And emulating the family farms of Iowa is a very good place to focus.
By Dirck Steimel. Dirck is Iowa Farm Bureau's News Services Manager.