Celebrating holiday food traditions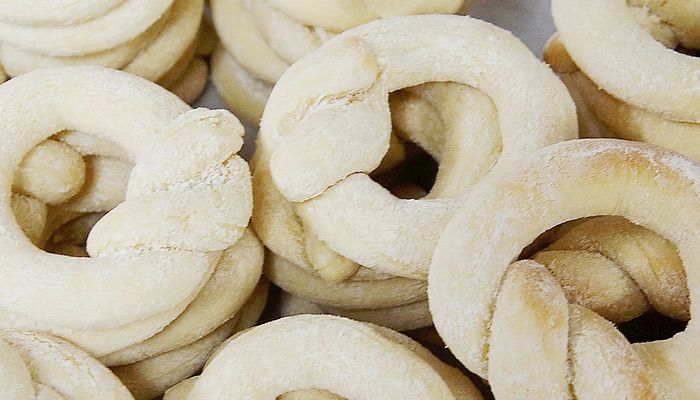 The other day I heard a song on the radio that brought back memories of my kindergarten holiday concert: "All I Want for Christmas is My Two Front Teeth."
Even though I haven't heard that song in years, I still could sing along to every word as if I was once again a 6-year-old girl with a Dorothy Hamill haircut and a wiggly front tooth.
That's the funny thing about holiday memories. You never know what will trigger them. I always think of Christmas at grandma's house when I hear sleigh bells jingling as a door opens or when I see holiday hams for sale at the grocery store.
Come to think of it, many of my earliest holiday memories are tied to the foods my grandma served while we sat at the "kid's table" for Christmas dinner.
While I can't remember what Santa gave me when I was 6 years old, I do remember how much I loved my grandma's homemade Norwegian potato lefse.
My red-headed dad and uncle used to make what they called a "Norwegian taco." They would wrap lefse, which looks like a tortilla, around lutefisk, an infamously stinky cod fish that's preserved by soaking in lye. (There's a reason why tourists go to Italy, and not Norway, for the food.)
Now that I'm all grown up, I've come to appreciate my grandma's efforts to carry on our family's Norwegian traditions through her holiday meals.
As I've talked to Farm Bureau members from across the state, I've learned that each Iowa family has their own unique holiday food traditions.
I once met a farm family that gets together each year on the day after Thanksgiving to bake hundreds of Christmas cookies to share with friends and neighbors. The family ends the day by frying up Norwegian rosettes, a crisp pastry sprinkled with powdered sugar that's shaped using their grandparent's antique iron molds.
Not surprisingly, many holiday foods reflect Iowa's immigrant heritage. Several Iowa farm families serve German stollen bread or Swedish lingonberries at Christmas. Other families bake up Dutch letters, Italian biscotti and Czech kolaches for holiday cookie plates.
Bakery owner Lori Dale learned how to make Norwegian kringla from her aunt using a recipe from her grandmother, who was born in Norway but settled in Story County, Iowa.
Now customers come to Lori's Kringla and More bakery in Rockwell City for a taste of kringla just like their grandmothers made at Christmas.
While I'll always miss my grandma and her Norwegian meals, I'm glad to carry on one of her Christmas traditions. A couple years ago, my dad gave me a lefse grill and a copy of my grandmother's lefse recipe. Now I serve lefse alongside the holiday ham at Christmas.
However, my husband still won't let me bring lutefisk into our home. Maybe I need to sing him a few Christmas carols to get him in the holiday spirit. (Santa baby, I've been an aw-full-y good girl...)
So tell us, what's your family's favorite holiday food tradition?
- If you're looking for a unique holiday gift, Lori's Kringla and More sells homemade authentic Norwegian kringla online at
www.loriskringla.com
.
- For step-by-step instructions on baking German Christmas stolen, visit the Iowa State Fair Challenge blog. (http://iowastatefairchallenge.blogspot.com/2010/12/test-kitchen-thursday-stollen.html)
Written by Teresa Bjork
Teresa is a features Writer for the Iowa Farm Bureau.