Celebrating food freedom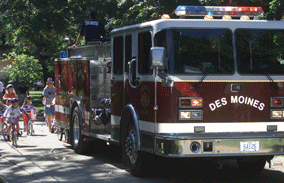 We're gearing up for this year's edition of our neighborhood's Fourth of July celebration. The city fire truck is set to arrive at 10 a.m. sharp. We'll play a recording of the Star Spangled Banner and then the firemen and fire women will drive (very patiently) up and down our two-block long parkway. Neighborhood kids will follow closely behind on their patriotically-decorated bikes, wagons and scooters. It's really a beautiful scene.
After that we'll take a little time for volleyball games, water balloon battles and sidewalk chalk creations. And, before long, it will be time for the best part of the day—the potluck lunch.
You just can't believe the spread that folks set out on the picnic tables. It seems that within minutes, the tables go from bare to bulging with an array of homemade dishes. There are the traditional favorites, like hot dogs, deviled eggs and potato salad. Someone always brings something new. (I think Asian chicken salad was last year's rookie dish of the year, in my opinion.) And there's the anchor of our potluck: Jane's incredible baked beans. I've learned to hustle to get some of those as soon as she brings them out; they go fast.
There are really so many food choices at our potluck that it's tough to keep from filling your plate, and belly, too quickly. It's really a classic display of our freedom to choose the foods we want to eat—and the ones that fit our lifestyles and budgets—while we celebrate our country's freedom.
Our Fourth of July potluck is really an expression of that freedom to choose. I think that's important to remember at a time when many activists want to try to dictate what types of foods American consumers should eat, or what type of farming methods should be used. Those directives could limit our food choices, raise prices and may even mean that a lot more our food will come from other countries. Really, they go against everything we celebrate on Independence Day.
Our little neighborhood Fourth of July parade and potluck has been a tradition for decades. Some of the long-time neighborhood residents say it dates all the way back to World War II, when rationing severely limited America's food choices and all of our country's freedoms were under threat. I always try to remember that history when I fill up my plate with a great meal and celebrate my freedom to choose.
Written by Dirck Steimel
Dirck is the news services manager for Iowa Farm Bureau.