Celebrating an engine that drives the world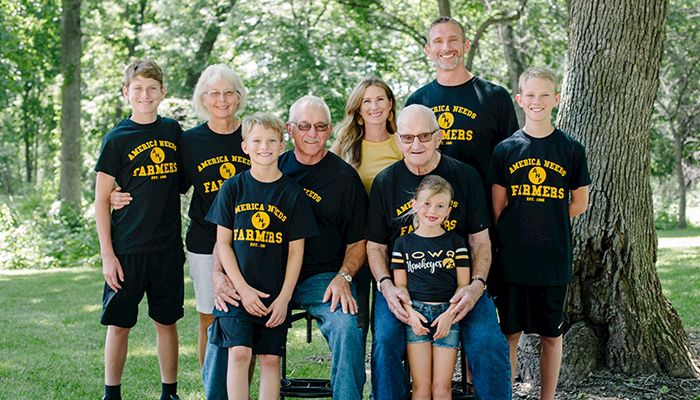 Aaron Kampman knew about planting, growing, and harvesting long before he lettered in football for the University of Iowa from 1998-2001.
Kampman grew up in Kesley, Iowa, and from an early age understood the intricacies of farming from his grandparents. It was all about planting a seed, helping it grow, and reaping the results. Nowhere was that more evident in his life than when he was a linebacker/defensive end for the Hawkeyes under Hayden Fry and Kirk Ferentz.
At Iowa, Kampman grew through seasons of 3-8, 1-10, and 3-9 from 1998-2000. But the seed that was planted was ready to explode. In 2001, Kampman was a starter in the Alamo Bowl that concluded with Iowa defeating Texas Tech, 19-16, to cap a seven-win season.
Kampman is the seventh recipient of the America Needs Farmers Wall of Honor. Iowa takes on No. 16/18 Wisconsin on Sept. 22 in the annual America Needs Farmers Game presented by Iowa Farm Bureau.
"Having the ability to represent the University of Iowa and the state of Iowa was always a real sense of honor for me because I grew up in the state," Kampman said.
Kampman was a multi-sport standout at Aplington-Parkersburg High School. The Falcons made three straight playoff appearances in football, finishing as the Class 2A runner-up in 1996.
As a true freshman for Iowa, Kampman played in nine games and recorded 49 tackles. His helmet was always adorned with the gold ANF decal that Fry famously affixed in 1985 in the midst of the farm crisis.
"Knowing the history behind ANF, the pride that goes with the sticker and what it communicates, there is a real sense of, 'Hey, we're going to reconnect to our roots,'" Kampman said. "This is what we are, this is Iowa, these are our values, these are the types of kids we recruit, whether that's from Iowa or around the country."
While at Iowa, Kampman was named first-team All-Big Ten, first-team Academic All-America, and permanent team captain. He ranks 13th in school history with 342 tackles and received the Forest Evashevski Scholastic Achievement, Coaches Appreciation, and Hustle awards. Kampman was selected in the fifth round of the NFL Draft by the Green Bay Packers, where he played eight seasons. His final two seasons were with the Jacksonville Jaguars.
As a professional, Kampman compiled 483 tackles and 58 sacks. In 2006, he had a career-best 89 tackles with 15 ½ sacks.
Now, Kampman joins elite ANF company. Other Wall of Honor recipients include Chad Greenway (2017), Dallas Clark (2016), Robert Gallery (2015), Bruce Nelson (2104), Jared DeVries (2013), and Casey Wiegmann (2012).
"It's a sense of pride," Kampman said of the ANF honor. "I am a part of a state that is part of an engine that drives not only the country, but the world in some ways. That is part of the beauty of what ANF is, so we are all celebrating, remembering, and shedding a light on something collectively that is powerful."
When Kampman describes farmers, the words faithful, humble, and hard-working come to mind. With the population of the world surpassing 7.6 billion people, Kampman knows farmers will step to the plate.
"If we didn't have farmers, I don't know what would happen to our world, that's a reality most people don't consider," Kampman said.
He likens the togetherness of the farming community to the togetherness he experienced in Hawkeye football locker rooms.
"That's what makes Iowa — the state and the football team — unique," Kampman said. "We are better together than we are apart. With the spirit of ANF, we are saying that collectively, we're going to celebrate our farmers and what they are doing for our country. We are better together than we are apart."
About Iowa Farm Bureau
The Iowa Farm Bureau Federation is the largest statewide, grassroots farm organization in Iowa, celebrating 100 years of creating a vibrant future for agriculture, farm families and their communities. For more information, visit www.iowafarmbureau.com/100.