Celebrating a true Iowa hero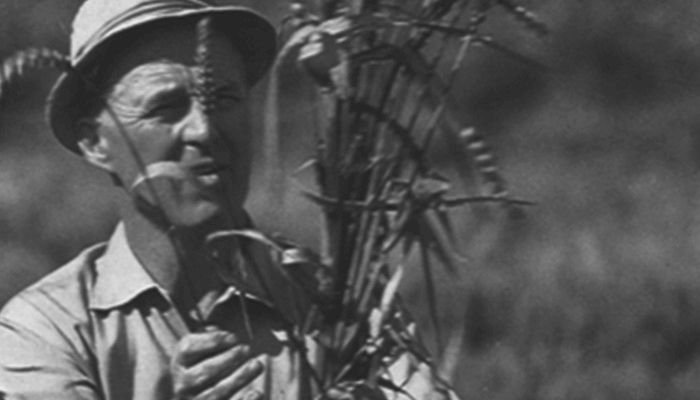 March 25 is Agriculture Day across America, but in Washington D.C. it feels more like Iowa and Norman Borlaug day as Iowans and national leaders gathered today to unveil a new statue of Borlaug in the U.S. Capitol. The image of the Iowa farm boy who led the development of improved crops that are credited with saving the lives of a billion people, will live for the ages.
The new statue in the U.S. Capitol is a fitting tribute to Borlaug, who was born on a humble farm 100 years ago outside of Cresco in northern Iowa. He went on to be one of only three people to receive the Nobel Peace Prize, the Congressional Gold Medal and the Presidential Medal of Freedom. As Iowa Gov. Terry Branstad noted prior to the unveiling, Borlaug represents the Iowa values of hard work, persistence and a strong belief that science and agricultural technology and strong values can make the world a better and more secure place. "Now the people that come to the nation's capitol will be able to learn more about Norman Borlaug and the difference that he made in the world," Branstad said.
It was a real difference. In 1960, before Borlaug's techniques were widely adopted, the world's farmers produced approximately 692 million tons of grain to feed 2.2 billion people. By 1992, largely because of Borlaug's advances in high-yielding wheat, farmers produced 1.9 billion tons of grain for 5.6 billion people, using only 1 percent more land.
It goes way beyond simply growing more grain. Borlaug also knew that a hungry world could not be a peaceful or stable one. Along with being a pioneering plant scientist, Borlaug was a true humanitarian who made a difference in his world.
The unveiling of the Borlaug statue in the U.S. Capitol was a fitting look back at a great man's life. But it also was also about the importance of looking forward, as Borlaug always did. Farmers in Iowa and around the world aren't sitting still or resting on their accomplishments. They continue to work to produce improved crops and livestock that are needed to feed a growing world population. They are adopting new technologies, such as biotechnology and GPS, which are helping them increase yields while protecting soil, water and all of the environment. And they are combining all of that with hard work and persistence, values that comes from working on the land and living closely with nature.
And as Norman Borlaug so vividly showed, the combination of science, compassion and hard work truly can make the world a better place.
By Dirck Steimel. Dirck is News Services manager for the Iowa Farm Bureau Federation.