Carroll Woman Receives Free Groceries from Iowa's Farmers, "Pays It Forward" to Local Food Bank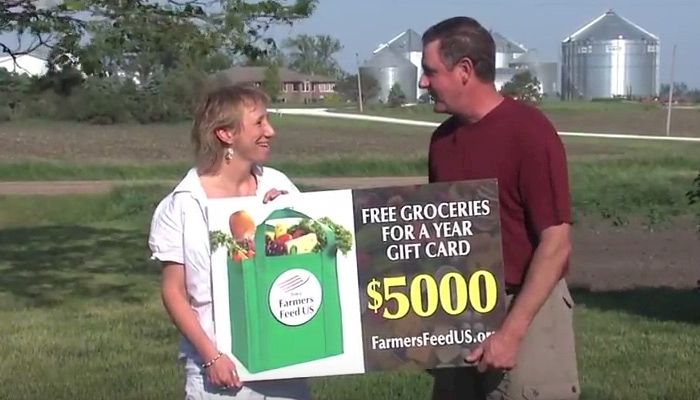 When asked how it feels to win a year's worth of free groceries through the recently completed Iowa Farmers Feed US sweepstakes, Luci Heuton of Carroll responded "It's wonderful! I've never won anything in my life!"
Understandable. Most of us haven't had the fortune of winning anything as significant as $5,000 in food, freeing up extra cash for our more discretionary purchases. Luci was one of two winners – the other being Pam Davis of Grand Junction, Iowa – out of nearly 150,000 registrations on
www.farmersfeedus.org/ia
over a three month period. So what's next on the list for Luci and her husband Paul: an exotic vacation; a down payment on a new car? Nah. How about a gift to the hard-luck folks of Carroll County who are still waiting for their first break?
"When good things come to you, you want to pass them along, so we decided to make a substantial contribution to the food bank here in town," said Luci, who was hesitant to speak about her generosity and quick to tell me that she wasn't looking for any extra attention.
It's an inspiring idea, one that, coincidentally, dovetails with the purpose of the Farmers Feed US campaign: explaining how farmers grow safe, affordable and nutritious food for their communities and a world that's home to 800 million hungry people.
Maybe it's not so coincidental. Like Luci, who farmed with her husband until recently, Iowa farmers are continually looking for ways to give back to their communities, their civic organization and churches. Often that means helping to feed the less fortunate in their own hometowns, even as they strive to raise more food for a hungry world. The Farmers Feed US campaign was a good example. Iowa dairy farmers, though the Midwest Dairy Association, donated $1 to local food banks for every new "fan" that signed up on the Farmers Feed US Facebook page
www.facebook.com/iafarmersfeedus
. They also chipped in a buck for every "follower" who signed up on the Farmers Feed US Twitter account at
www.twitter.com/iowafarmersfeedus
. It all added up to about $30,000 extra dollars at a time when Iowa food banks are struggling with increasing demand and decreased supplies.
It's that spirit of generosity—caring for the land, caring for animals and caring for neighbors—that makes living in Iowa so great.
Written by Zach Bader
Zach is a Communications Specialist for Iowa Farm Bureau.