Bringing back the small-town grocery store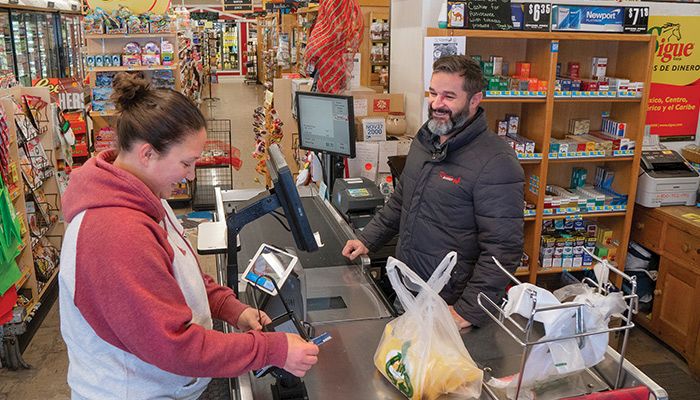 A small-town grocery store is more than a place to buy food. It's where people gather, share the news of the day and revel in being part of a community.
In Lenox, shoppers can get all that and more at Ramsey's Market.
In 2012, Theo and Bonnie Ramsey brought a new concept to the southern Iowa town of 1,400, one that would earn them the 2018 Iowa Farm Bureau Renew Rural Iowa Entrepreneur Award.
"We've always been nuts about grocery shopping. It's sort of a hobby," says Bonnie Ramsey, who grew up in the Lenox area. "When we first met, we would go to grocery stores just for fun." Bonnie and Theo, a Seattle native, met in California while serving in the U.S. Air Force, where they were both members of the USAF choir.
They were stationed in St. Louis, managing events for military brass, when they began to evaluate their careers. "We missed our family and the small town," says Bonnie. "And we were in Lenox about once a month," adds Theo.
When Lenox's long-time family-owned grocery store, with roots dating back nearly a century, came on the market, the Ramseys made a decision to follow their dream.
"We envisioned a way to combine entertainment with retail," says Theo.
At Ramsey's Market, the registers are considered stage front. Shelf stocking takes place backstage. Customers are guests, and it's not unusual to hear someone break into song.
Sometimes the entertainment is more planned, with live local musicians on the stage near the front door. Local artwork and photography line the walls.
"This is what's needed in a small town," says Bonnie. "Retail is disappearing. So we set out to provide an experience with the retail, to make this a destination."
Ramsey's Market offers a wide selection of fresh and packaged grocery items, along with a deli counter. Daily and weekly specials are posted on the store's website and Facebook page, with online shopping coming soon. Ramsey's offers free curbside pick-up of your grocery order or delivery in Lenox for a minimal charge.
"We cater to our customers," says Theo. They will gladly order items by request. Their main product supplier is a co-op out of Kansas City, where they pool with 800 other stores to keep prices competitive.
"The grocery business is the hardest type of retail," says Bonnie, who admits they faced, and continue to face, a steep learning curve. "There is such a small margin for profit, and everything that comes in the door is a ticking time bomb with an expiration date."
Some items are sourced close to home. A local home baker supplies fresh bread, and local growers provide specialty garlic, pumpkins, and other produce.
They offer Cruz Burritos, over-sized creations stuffed full of fresh ingredients, named for the Ramsey's son, Cruz — a burrito lover extraordinaire. Beef sticks and summer sausage come from Doug's Smokehouse in Bedford, owned by Bonnie's brother.
Ramsey's sells Iowa beers and is in talks with an Iowa winery, all part of Theo and Bonnie's plans for expansion.
A second building is under development. Plans are for a multi-purpose venue, with a bar area where shoppers can kick back, listen to some good music, and have a brew while staff do their shopping. "We want the place to feel like home," says Theo, "where folks can relax at the end of a hard day."
For now, they are happy to be part of the community that holds their heart, and supports their business venture.
"We're lucky to be here," says Bonnie. "This is a great community, and it's good to be home. We're excited to bring our dream to our friends and neighbors."
Queck-Matzie is a freelance writer from Greenfield.
Return to
The Iowa Dish