Bite for bite, the best burger in Iowa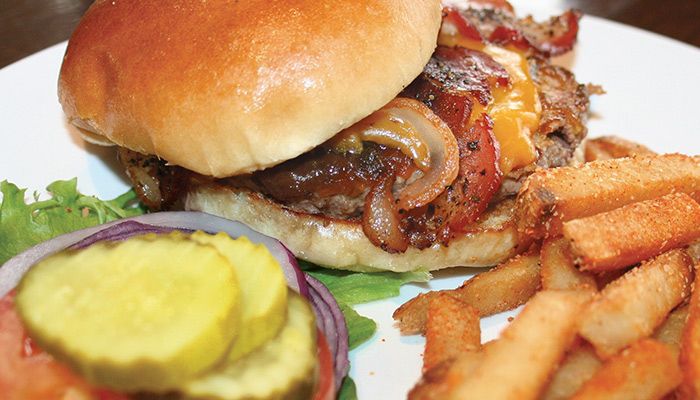 Enjoying the view from the indoor patio at the Oskaloosa Public Golf Course, Wood Iron Grille diners bask in the atmosphere and the culinary experience, including Iowa's 2019 Best Burger.
The gourmet burger is a custom grind of chuck and short rib created by the Oskaloosa Fareway Store for Wood Iron Grille, cooked to perfection and topped with applewood smoked cheddar cheese, uncured peppered bacon and in-house specialty onion jalapeno jam on an all-natural bun.
The annual best burger in Iowa contest is sponsored by the Iowa Beef Industry Council and the Iowa Cattlemen's Association.
Wood Iron Grille is the creation of Michael Glesener and Matthew Gunn. They officially opened the restaurant last October and have seen their business catapult in popularity.
"We try to appeal to the unique Midwest palette," says Michael. "Midwesterners are meat and potato people. But they also like to try new things."
He makes traditional Alfredo pasta with added kale. A new drink at the bar is a blackberry mule. Desserts are served in glass tea set punch cups. ("They only cost $3 and people can't say they're too full for them," says Michael. They found the cups stored in the building's second floor.) There is a crab rangoon flatbread, and a special house poutine with Michael's own slow-braised beef and gravy and fresh gouda cheese curds from Frisian Farms in nearby Leighton.
A featured fresh vegetable of the day is a menu highlight. Michael and Matt worked with a local grower through the winter, pouring over seed catalogues selecting unique offerings.
"We try to stretch people a bit," says Michael, "to elevate their experience. It's about taking the familiar and making it more exciting by spicing it up a little."
Determined to stray off the beaten breaded tenderloin path, they cut their pork loin into strips, bread and fry them, and call them Pig Toes. "If chickens can have fingers, pigs can have toes," says Matt.
For a breakfast take on chicken and waffles, diners can order their pig toes in the form of 3 Pigs and a Woofle.
The Best Burger designation leaves Michael and Matt looking forward to their first summer of business with a feather in their cap and innovative ideas for the future. They would like to host more live entertainment and feature more local artwork for sale.
"Mostly, we want to try to do what we do even better," says Matt. "You can always improve."
"And keep up with burger madness," adds Michael. The first few days following the best burger announcement had cooks triple-teaming the grill for six hours at a time.
While Michael hopes customers remain patient through the blitz and enjoy their food, Matt sees the packed house as an opportunity for more than selling burgers. "It's a chance to get to know people, to talk to them, to love them — and of course, feed them."
Wood Iron Grille is located at 2214 S. 11th St. in Oskaloosa. To find business hours and the menu, visit www.thewoodirongrille.com.
Queck-Matzie is a freelance writer from Greenfield.

Return to The Iowa Dish