Biosecurity and Disrobing Insecurity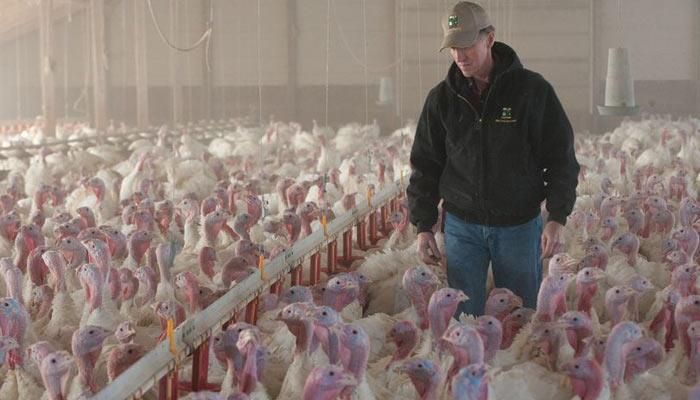 I'm following the H1N1 flu situation this week, working to provide solid information for our farmer members. As I do that, I can't help but think about the biosecurity measures that farmers already have in place to help combat such issues.

So I thought I'd share the story about how I found myself naked in a hog house last December.

Farm Bureau photographer Joe Murphy and I had showed up at Klinton Patterson's north central Iowa hog operation to interview him. We'd braved the winter weather and the snow-covered roads to get to him. We were bundled up in our winter gear and farm-ready clothes, but it wouldn't be long before they'd end up in piles next to shower stalls.

"Women to the left, Joe straight ahead!" Patterson barked the orders to us and we simply did as we were told.

I've been covering ag for a few years. I've had to change shoes, step through foot/shoes baths, don coveralls and even change clothes. But, as I stood in a small room facing a strange shower, I hesitated. I hadn't had to do this yet.

I could hear the farmer give Joe directions in the room next to mine, but couldn't make them out. I had a few questions: did I need to wash my hair?, what would I wear?, did I REALLY need to do this? I called out to Patterson in a very pathetic voice.

"I'm not gonna come in there and help you!" he hollered. He was already behind schedule today with a broken-down semi-truck and I wasn't about to make his day worse.

I stripped and stepped onto the orange waffle mat in the shower stall. I took the fastest shower of my life. On the other side of the shower was another small room with laundry baskets filled with towels, shirts, pants, and socks.

I grabbed sweat pants that I could hardly pull up past my hips, a torn "Good Ol' Boy" John Deere shirt, a flannel shirt two-sizes too small and long, gray socks. (See my profile pic for proof!) I stepped into blue rubber boots, grabbed my notebook and pen and went to work.

After spending an hour visiting each production area, it was time to go. Now, I was ready. Disrobe, shower, dress. No problem.

A few weeks later, I interviewed the outgoing president of the Iowa Pork Producers Association at his farm near Nevada. When it was time to snap his picture, I asked if we could be near the hogs and joked about my shower initiation at the last hog barn.

He wasn't amused. "That's what I'd make you do," he stated.

It's just one way hog farmers have strengthened already-tight biosecurity measures in their operations. They enforce strict sick leave policies for their employees and limit visitors. Honestly, I think most farmers would love to parade people through their barns to show them what they do, but it's simply not practical unless every protocol, from showering to proper gear, is followed to a 't.'

In Iowa, we're lucky to live near farmers who use the latest in technology and research to keep their farms, families and communities safe and healthy. I am always ready for a farm visit to come up. My trunk contains a "farm kit," consisting of jeans, shirt, boots and hat. Maybe I'll add shampoo and conditioner to it for my next hog house visit.

Written by Heather Lilienthal
Heather is an Ag Commodities Writer for the Iowa Farm Bureau.