Between The Lines: Meat Is Sexy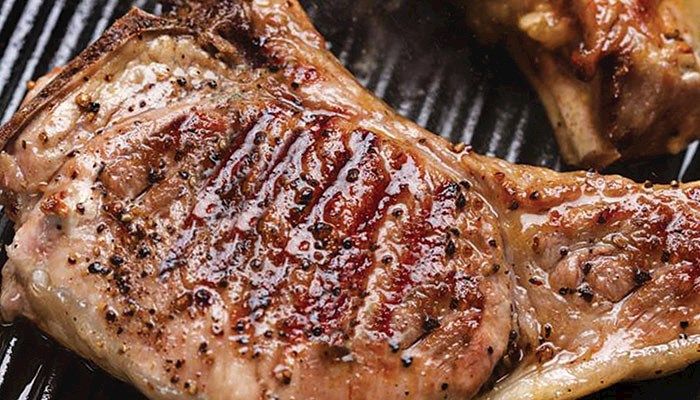 "Young Idols With Cleavers Rule the Stage" screamed a recent New York Times headline. Apparently, in places where customers are not likely to ever see a cow or farm in their lives; meat is cool and the men who serve it up; sexy.

Maybe it's a 'New York Thing' I thought as I finished the article which described the virtuosity of their butchers' chosen profession; the heavy lifting and swinging scabbards which brought them rippled forearms and an indie band, cult-like status. But, there's no denying it; our nation is in the middle of a 'meat renaissance'.

No longer confined to the footnotes or Lifestyle sections of the newspapers, there's plenty of ink for steak-grilling, rib-eating and barbeque festivals—not to mention, glowing testimonials for candied bacon ice cream, bacon brownies, even bacon martinis.

It's too bad my lard-saving, pie-crust-making, two-eggs-over-easy, 99-year-old Grandma didn't live long enough to see her favorite breakfast staple become cool. An award-winning baker, Gladys would've rocked those 'bacon brownies.'

Maybe this 'meat is cool' frenzy is nothing more than a defiant backlash from the exhausting pushes for us all to be politically-correct, plant-eating, free-range-promoting enlightened consumers. I mean, nothing says 'home' like biting into a crunchy piece of bacon, right? There. I said it. (Somewhere, Grandma Gladys is smiling with her spatula in hand).

Iowans could've told that New York Times reporter long ago that their butchers' work ethic is just a way of life here in rural America. It's not just butchers who are sexy because they're knee-deep in ribeyes and pork shoulders; working hard is a farming virtue and few work harder than the Iowa livestock farmers who raise the bacon and steaks.

"I'm always here at least by 5:30 and some days I don't leave until 10 or 11 at night," says Paul Bubeck, butcher and owner of Lewright's Lockers in Eagle Grove. Lewright's first carved a name for itself back in 1936 and Bubeck is the third generation butcher to run the place. Lewright's has expanded quite a bit since the days when my Mom would go there for an Easter ham loaf or smoked chops (I have to pause a minute because my mouth is watering).

But apparently, here in Iowa, (just like in New York), a good butcher is hard to find. "It's not just because it's hard work and the hours are long; they're not training them anywhere anymore and there are very few lockers left," said Bubeck, as his muscled hand reached up to stroke his graying beard. "Folks who work in packing plants only do a tiny part of the job on their part of the line; they don't know how to dress a whole hog or beef cow."

But if you've got the mad skills and a way with a cleaver, the big clients will come-a-calling. "Last year, we sent a whole beef, cut and wrapped, to Hollywood. I mean, the guy spent $2,400 just on shipping," said Bubeck.

L-A, birthplace of PETA protests and purse dogs, is clearly starving for something to really sink their teeth into; thank goodness, nothing satisfies like meat.

Written by Laurie Johns
Laurie Johns is Public Relations Manager for the Iowa Farm Bureau.