Best new fair food?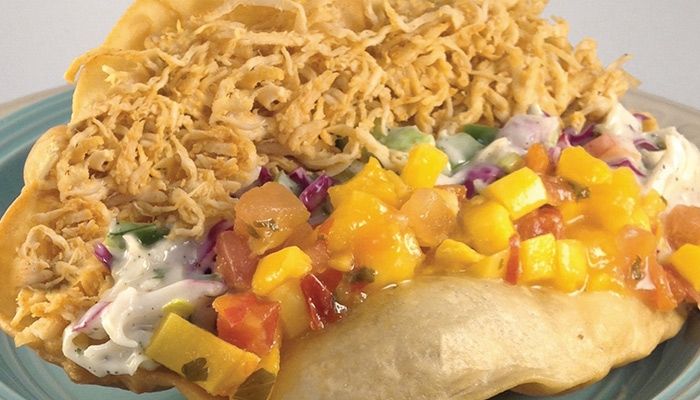 Iowa turkey farmers are excited to dish up what they hope will become a new Iowa State Fair favorite, a turkey taco with a twist, cleverly named "Not Your Mamma's Taco."
It's a taco made with seasoned and shredded turkey, stuffed inside a deep-fried tortilla and topped with hot pepper slaw and, for a surprising flavor combo, mango salsa.
The Turkey Grill at the Iowa State Fair submitted the taco for consideration in the annual best new fair food contest, and the turkey taco is now one of the top three finalists.
Fairgoers can vote for their favorite new fair food online on the Iowa State Fair's website between Aug. 11-15.
Hailey Grant, communications director for the Iowa Turkey Federation, says the taco was a hit at the pre-fair Corndog Kickoff last month. "We couldn't keep them on the table. People were lining up the entire time," she says.
"We haven't had a new food in the contest before, so it's all new to us. But I definitely think we can handle (the customer demand)," Grant adds.
The idea for the new turkey taco came from central Iowa farmers Doug and Melissa Loof, who own a food truck and have helped run the Turkey Grill the past few years.
Iowa-based West Liberty Foods provides the shredded turkey for the tacos, and Doug developed a special Mexican seasoning blend for the shredded turkey. Doug also suggested topping the taco with mango salsa, a perfect pairing for the turkey.
"We came up with nine different kinds (of mango salsa), and we had a bunch of people come into the (Iowa Turkey Federation) office to try each salsa with the taco. And we voted and found one that is our favorite," Grant explains.
"And actually, it really pulls everything together. I love it. I wouldn't want to eat (the taco) without it. It's a little spicy and a little sweet. There are no tomatoes in it. It's just really good."
Grant says she tried the other two finalists for the best fair food contest — the Pride of Iowa wrap and the ice cream nachos — at the Corndog Kickoff and she's convinced the turkey taco has a good shot at winning top honors.
"For one, (the turkey taco) is a little cheaper than most fair foods. It's only $5, and it still meets the requirement to be on the healthy fair food list. And it's still deep-fried. So hopefully, people will put two-and-two together and say, hey, that's a good deal," Grant says.
The Turkey Grill typically serves more than 12,000 drumsticks and 5,500 turkey tenderloins during the Iowa State Fair, Grant says.
Also new this year, fairgoers who order a turkey tenderloin sandwich from the menu can take their pick of sauces: buffalo, Asian or barbecue sauce.
"We want to show people all the different things you can do with turkey and all the different ways you can eat it," Grant says.
"Turkey is a lean meat, and it's high in protein," she continues. "You can enjoy it any time of year, and it's very versatile ... Anything you can think of, turkey can do it."

Return to The Iowa Dish.