Best deals at the Iowa state Fair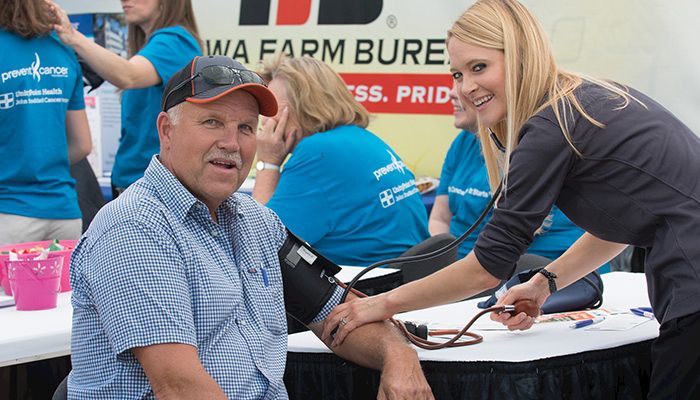 Looking for the best deals at the 2017 Iowa State Fair? Then be sure to visit Farm Bureau Park at the Iowa State Fair Aug. 10-20 for a chance to win valuable prizes, get a free health screening and learn about exclusive member discounts.
Check out the following health partners at Farm Bureau Park who will offer free health screenings at the Iowa State Fair:
Stroke Detection Plus will provide free Peripheral Arterial Disease (PAD) screenings from 9 a.m. to 11 a.m. on Tuesday, Aug. 15. This is one of the four life-saving screenings offered to Iowa Farm Bureau members at a $35 discount. Call 877-732-8258 to find out when they will be in your county.
Wolfe Eye Clinic will offer free glaucoma screenings on Friday, Aug. 18 from 9 a.m. to 3:30 p.m. Through an exclusive partnership, Wolfe Eye Clinic offers a 20 percent discount on all-laser Lasik eye surgery when you present your membership card at your initial evaluation.
ClearValue Hearing provid­ers will offer free hearing screenings from 9 a.m. to 3:30 p.m. the first seven days from Thursday, Aug. 11 through Wednesday, Aug. 16. ClearValue Hearing also offers Farm Bureau members discounted pricing on Starkey hearing aids. To learn more, call  888-497-7447.
Also, visit Farm Bureau Park to learn about the following member benefit partners who offer exclusive discounts to Farm Bureau members:
A new Ford F-150 will be on display in Farm Bureau Park, and members can sign up for the Built Ford Tough F-150 sweepstakes to win a 24-month lease. Ford continues to offer Iowa Farm Bureau members exclusive $500 Bonus Cash on most new Ford or $750 Bonus Cash on most new Lincoln vehicle purchases or leases.
Morton Buildings and Caterpillar have partnered with Iowa Farm Bureau to provide exclusive savings and to sponsor the "Giving Away the Farm" sweepstakes. One lucky entry will win a $50,000 Morton Building and $54,000 Cat compact track loader.
Case IH will have a tractor on display and continues to offer our members $300 to $500 savings on select tractors and hay equipment.
free member gift
Look inside Family Living's State Fair supplement to find a coupon for a free gift available exclusively to Farm Bureau members. Bring the coupon to Farm Bureau Park, located east of the Varied Industries Building, to receive your free gift.