Beefing up the Iowa State Fair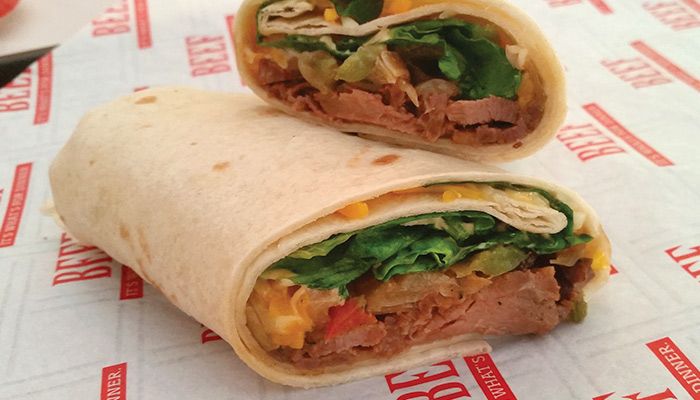 More than 1 million people pass through the gates of the Iowa State Fair each year. Tasting the culinary specialties is part of the adventure, and there is no shortage of options.
Yet in a venue where literally thousands of treats vie for fairgoer's attention, diners stand in line for a hot beef sundae (a bowl full of mashed potatoes, roast beef and gravy), a fresh grilled hamburger, and prime rib that rivals the finest restaurants, all at the Cattlemen's Beef Quarters.
"When you eat here, you know the food is prepared and served by people who raise quality cattle. It's beef that is raised, prepared and served with pride and passion," says Deb Bettin of Odebolt, long-time kitchen manager for the Cattlemen's Beef Quarters, supported and manned by Iowa's beef producers.
"The Cattlemen's Beef Quarters enables Iowa beef producers to showcase their product," adds Brooke German, director of marketing for the Iowa Beef Industry Council (IBIC). The IBIC assists with marketing and promotion for the popular fair food stop.
Cattlemen's Beef Quarters General Manager John Mortimer relies on a full-time staff and volunteers during the fair. More than 1,200 volunteers from 65 county cattlemen's organizations spend a day each year working the grill and taking orders to promote their product.
The majority of the beef served comes through the Iowa Premium Beef plant in Tama and is sourced from within a 100-mile radius. "We say it's too good for a stick, and we're proud to serve one of the fair's highlights," says German.
The Cattlemen's Beef Quarters began in 1985 with start-up funds from 35 county cattlemen's organizations. The permanent structure, designed to seat nearly 400, was built in 1992. "It's within easy walking distance of the Grand Concourse and the livestock barns," says German. "And unlike many of the fair food stands, folks can sit down and eat a full meal at a table."
The Cattlemen's Beef Quarters served more than 22,000 of its famous hot beef sundaes at last year's fair. The steak sandwich was the second most popular beef menu item, followed by more than 4,000 bacon cheeseburgers. All totaled, it took more than 14 tons of beef to satisfy fairgoers' taste for quality beef.
"It's just the best place to get quality beef products at an affordable price," says German.
Each fair day starts at 6 a.m. with breakfast, including all you can eat pancakes and a breakfast burrito that German says will fuel your protein needs throughout your busy fair day. Made with smoked brisket and eggs, German says the burrito "is a great source of protein that will keep you fueled and full longer."
"Beef provides 10 essential nutrients including zinc, iron, B12 and B6, in addition to 25-30 grams of protein per serving," she adds. "That helps eliminate the need to snack, helps muscle recovery from overexertion, and creates healthy red blood cells that keep ample oxygen in the blood."
New to the menu this year is the Brisket Tango Mango — a waffle bowl filled with coleslaw and shredded smoked brisket and topped with mango salsa. "It's very unique," says German. "People will love it!"
For those who don't feel like braving the lines of hungry patrons, or who are busy in the barns with the fair's more than 3,500 beef cattle entries, the Cattlemen's Beef Quarters offers online ordering and easy order pick-up. No app to download, just go to www.cattlemensbeefquarters.com.
"The Cattlemen's Beef Quarters is like sitting down to eat from your own kitchen," says German, "or barbecuing in your own backyard. How great is it that Iowa's beef producers are so proud of the product they produce that they have created this way to offer it to people coming to see the fair?"
The Cattlemen's Beef Quarters at the Iowa State Fair will open Thursday, Aug. 9 and run throughout the fair until Sunday, Aug. 19. Hours are 6 a.m. to 9 p.m. Online ordering is available 7 a.m. to 8:45 p.m. Check their Facebook page for updates and specials.
Queck-Matzie is a freelance writer from Greenfield.

Return to The Iowa Dish