Beef shopping tips from a cattle farmer. Plus a recipe for citrus-marinated beef and fruit kabobs!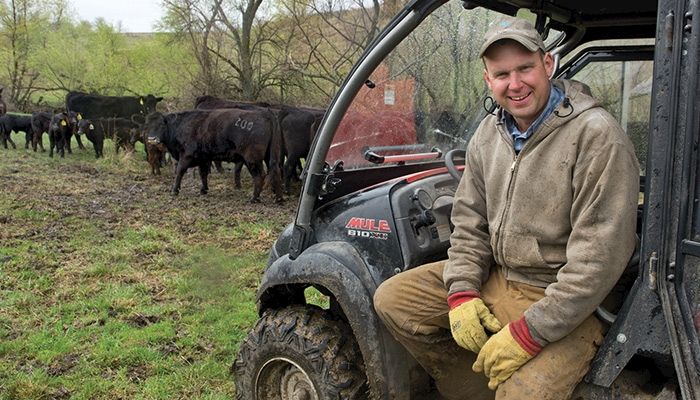 May is Beef Month!
Cows give terrible interviews, so I asked Iowa farmer Dan Hanrahan for his insights on caring for cattle and the land and tips he can offer the average Iowan shopping for beef. I think you'll enjoy his responses!
Stick around 'til the end, and there's a nice recipe for citrus-marinated beef and fruit kabobs!
Q: We've left behind Iowa's coldest winter in 35 years, only to encounter record rainfall events in some areas of the state. How do you keep your cattle comfortable this time of year, and year-round?Dan:
With regards to the cold weather of this past winter, we paid particular attention to several things. First, we made sure the cows had protection from the wind, which can amplify the effects of the cold. Second, we would frequently use baled corn stalks as bedding for cows going into those cold snaps. Once broken apart, the bales became a mat and provided some insulation from the cold ground. Third, we paid attention to cow body condition, or fat cover, monitoring it every several days to make sure we were providing the nutrition the cows needed to maintain their weight.
During the spring, we've always calved mature cows on pasture, which gets them out of the mud that can sometimes be found in a lot. We also put our cows inside when they're close to calving. This gives them as much space as possible in the barn, while keeping the bedding dry. Our pastures also have natural windbreaks, like trees and draws, that the cows utilize to get out of the wind.
Q: I've heard a lot about new structures and practices farmers are adopting in their fields to protect water quality. How are you handling your cattle in ways that protect the environment?Dan:
Several years ago we implemented a rotational grazing program, where the cow herd is moved roughly every week to a new area of the pasture. We've seen lots of benefits from this practice. Ponds and stream banks are better protected due to increased grass cover, and any compaction from high traffic areas is minimized. We've seen more diverse grasses work their way into the mix, and the grass is maintained in better health, giving it better roots, which cuts down on erosion and improves water infiltration.
We've also recently begun experimenting with using cover crops on our crop acres as a way to provide additional feed for the herd, while keeping the soil covered during a sensitive time of the year.
Q: I have an aisle-full of choices when I shop for beef at the grocery store. I can buy beef that's "grass-fed", "organic," or "natural." No one knows a good steak better than a cattleman. What are you looking for when you shop for beef? Dan:
It's a wonderful testament to beef production that consumers have so many choices available to them at the grocery store. Whatever their preference is, they can take confidence in the safest food supply of anywhere in the world.
They can also rest assured that farmers are constantly looking for ways to produce it better. For our farm, it starts with bull selection. Technology has helped us learn about the genetic traits of our bulls, so we can select bulls that help us produce the kind of beef consumers want. For example, we may be on the cusp of identifying and selecting for bulls that will help us maximize the tenderness of our meat.
When I shop for beef, price is usually the biggest motivator, so when I step up the to the meat counter I'm looking for the best deal. It might be ribeyes one day, and a flat iron steak the next.
Over the summer, my personal preference is to find cuts that work well for grilling and exhibit a nice, marbled texture (white flecks and streaks of fat within the meat that give it added flavor). Also, I sometimes prefer to purchase ground chuck, as opposed to standard hamburger, which rewards me with a little extra flavor for my dollar.
As a consumer, I feel I have a lot of great choices because of the confidence I have in beef's quality and how it is produced.
By Zach Bader and Dan Hanrahan. Zach is Iowa Farm Bureau's Online Community Manager. Dan farms in Madison County.
Citrus-Marinated Beef & Fruit Kabobs
Recipe and photo courtesy of the Iowa Beef Industry Council and the Beef Checkoff Program
Total Recipe Time: 40 to 45 minutes
Marinade Time: 15 minutes to 2 hours1 pound beef Top Sirloin Steak Boneless, cut 1 inch thick
1 medium orange
1/4 cup chopped fresh cilantro
1 tablespoon smoked paprika
1/4 teaspoon ground red pepper (optional)
4 cups cubed mango, watermelon, peaches and/or plums
Salt
1. Grate peel and squeeze 2 tablespoons juice from orange; reserve juice. Combine orange peel, cilantro, paprika, and ground red pepper, if desired, in small bowl. Cut beef Steak into 1-1/4-inch pieces. Place beef and 2-1/2 tablespoons cilantro mixture in food-safe plastic bag; turn to coat. Place remaining cilantro mixture and fruit in separate food-safe plastic bag; turn to coat. Close bags securely. Marinate beef and fruit in refrigerator 15 minutes to 2 hours.
2. Soak eight 9-inch bamboo skewers in water 10 minutes; drain. Thread beef evenly onto four skewers leaving small space between pieces. Thread fruit onto remaining four separate skewers.
3. Place kabobs on grid over medium, ash-covered coals. Grill beef kabobs, covered, 8 to 10 minutes (over medium heat on preheated gas grill, 9 to 11 minutes) for medium rare (145°F) to medium (160°F) doneness, turning occasionally. Grill fruit kabobs 5 to 7 minutes or until softened and beginning to brown, turning once.
4. Season beef with salt, as desired. Drizzle reserved orange juice over fruit kabobs.
Makes 4 servingsNutrition information per serving:
239 calories; 6 g fat (2 g saturated fat; 2 g monounsaturated fat); 70 mg cholesterol; 57 mg sodium; 20 g carbohydrate; 2.4 g fiber; 27 g protein; 11.3 mg niacin; 0.7 mg vitamin B6; 1.5 mcg vitamin B12; 2.1 mg iron; 31.0 mcg selenium; 5.0 mg zinc; 107.1 mg choline.
This recipe is an excellent source of protein, niacin, vitamin B
6
, vitamin B
12
, selenium, zinc and choline; and a good source of iron.