Australia stepping up in global trade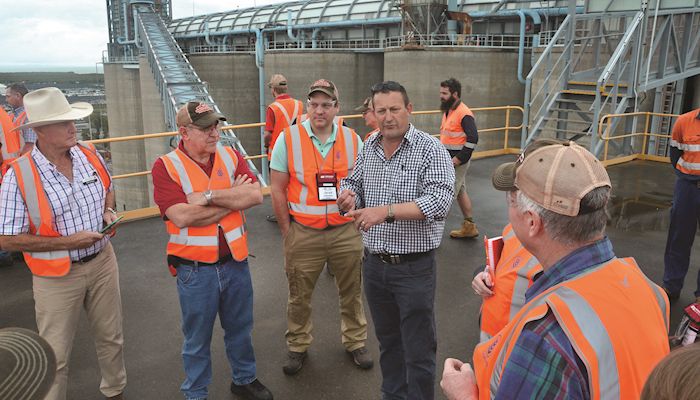 Australia's farmers are ready to fill any trade vacuum left by the United States, especially in the lucrative southeast Asia market, a group of Iowa farmers learned this month on the Iowa Farm Bureau Market Study Tour to Australia.
With a limited domestic market and very little government support, Australian farmers are heavily dependent on trade. Around 75 percent of the country's agriculture production is shipped overseas, much of it to China, India, Japan and other Pacific Rim countries.
"Export markets have really opened up for Australia agriculture in the last 25 years," said Khan Horne, general manager for National Australia Bank (NAB) Agribusiness, the country's biggest ag lender.
While U.S. President Donald Trump's policies are roiling trade partners, Australia is pressing forward to open markets for its agriculture commodities.
Targeting China
It signed a trade agreement with China in 2015 and was part of the new Trans-Pacific Partnership (TPP-11) signed earlier this year.
"China has been very good for us, and Trump's good for us," said Stefan Meyer, cash markets manager for FC Stone Australia.
Australia enjoys an ag trade surplus with China, sending nearly 30 percent of its exports there in 2017. Emerging markets like Vietnam and Indonesia hold massive potential for expanded trade, NAB's Horne added.
GrainCorp, the largest grain storage and transport company in eastern Australia, is also expanding its export business to Canada, Europe and the United States, said Jason Hare, who manages the company's operations at the Port of Brisbane.
"We are starting to spread our wings a little bit," he said.
Japan is the key market for the Kerwee Feedlot, a 20,000-head capacity feedlot in southeast Queensland. The company feeds Angus and Wagyu for shipment to high-end hotel and restaurant customers under its own label called Stockyard Beef. It places value on consistent, high-quality feed ingredients, rather than chasing low prices.
"The beef feedlot was top-notch, and they're marketing into premium markets," said Dave Miller, Iowa Farm Bureau director of research and commodity services. "It was clear that the quality of their beef and customer relationships was their No. 1 priority."
Beef is the top commodity shipped in containers at the Port of Brisbane, which handles $50 billion worth of trade annually, said port trade development executive Jamie Wardle.
Facing challenges
However, like the United States, Australia is also subject to the whims of its trading partners. China has a reputation for rejecting shipments if it can find a better price elsewhere, said GrainCorp's Hare.
"The Chinese are very good at changing the rules and regulations to bring the price down," he said.
"Their demand for protein is rising. They've become our main market, but it's not without challenges," added Scott Kompo-Harms, trade and economics general manager for the National Farmers Federation in Australia.
Also, India raised the tariff on imports of chickpeas — one of Australia's major crops — from 40 percent to 60 percent overnight earlier this month, the third tariff hike since December.
"They had a very good harvest, and they want to protect their own producers, but it's not doing trading relationships any good," said Kompo-Harms. "It's completely damaged confidence in that market. That makes it very difficult to build any supply chains and relationships."