After 30 years of ANF, America needs farmers more than ever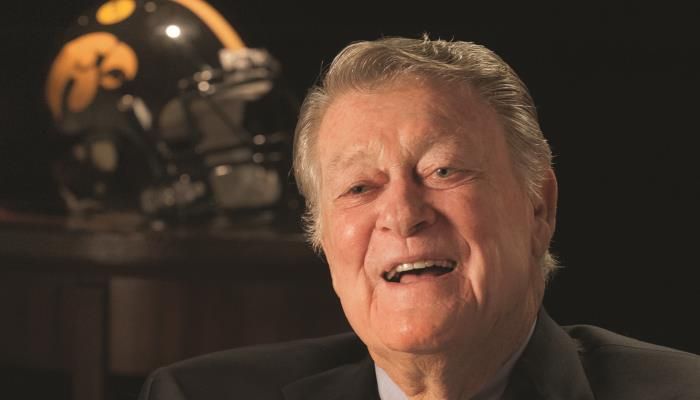 You can bet a lot of memories, both good and bad, will be in play this weekend when the 30th anniversary of the America Needs Farmers or ANF campaign is celebrated in Iowa City.
The anniversary will certainly spark memories about the 1980s Farm Crisis, one of the roughest financial periods in the history of American farming. Folks in Iowa and other states will also recall the perseverance of farmers who found a way to stay in farming when times were so tough and other careers looked a lot more promising.
And Iowans will remember gestures and actions, like ANF, which made a positive difference in a negative era.
University of Iowa head coach Hayden Fry launched ANF in 1985 to raise America's awareness about the financial plight of farmers. The Hawks were riding high back then, appearing on national television and headed for the 1986 Rose Bowl, but the veteran coach knew that farming was not and decided to do his part to let America know about it. With simple ANF stickers on the Hawkeyes' helmets, Fry and the Hawkeyes made a resounding statement.
I remember seeing ANF on Hawkeye helmets and reading about Fry's effort back then, when I was a farm reporter a couple of states away in Kansas. It certainly impressed me that a coach and university, and not one traditionally linked to agriculture, cared enough to add the ANF symbol to raise awareness of how America really does need farmers.
Vast gains in 30 years
Farming in Iowa and around the country is certainly very different today than it was in 1985.
The continuous improvements that farmers have embraced, such as GPS-guided equipment, cover crops and biotech seeds, have allowed them to produce better crops and livestock while reducing their environmental footprint. The progress over the past three decades has been nothing short of astounding.
Yet, in my conversations with farmers who survived the Farm Crisis, it's clear that the difficult times of the 1980s made a deep impression on them, both financially and emotionally.
Some have told me about how the Farm Crisis spurred them to search for alternative income sources, such as growing and selling vegetables at local farmers markets.
Others fixed their focus on expanding in livestock, so they could secure a living without a huge investment in land. Others have talked about the stress of working a job in town to make ends meet, while farming on nights and weekends to stay in agriculture.
Their desire to stay in farming, and the various routes they took to make it happen, has always impressed me.
The effects of the 1980s Farm Crisis were also clear in farmers' reluctance to take on debt during the economic boom years that ended in 2013. That reluctance, economists say, has put most farmers in a better financial shape to weather the current slump in commodity prices.
Needed more than ever
It's 30 years since ANF began and we have fewer farmers today. But it's clear that America needs farmers just as much, or even more, than we did in 1985.
Fry always has a great way with words and said it well a few years ago when the University of Iowa and Farm Bureau reignited the ANF campaign.
"There are fewer farmers out there today and they need to feed more people," the coach said. "The farmers who have stayed and hung in there do a great job. And we need to recognize them for what they do to feed America and the world."
For more information, visit www.Americaneedsfarmers.org.