ANF Food Bank Drive a Huge Success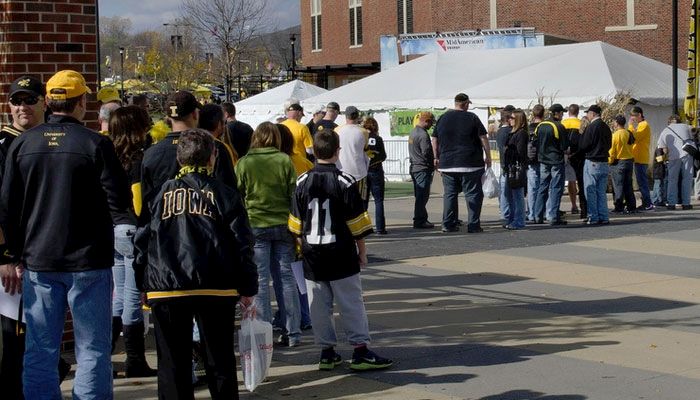 They're talking 'pounds' this week on the University of Iowa campus....121, 163 and 264 pounds, for example. These are three of the competition weight classes that are part of the 2012 U.S. Olympic Wrestling Trials that will be staged in Carver-Hawkeye Arena Saturday and Sunday.
Those weight classes and the U.S. Olympic Wrestling Trials are a big deal. The winners in these weight classes and others will have earned the opportunity to represent the USA at the 2012 Summer Olympic Games to be staged in London in August.
They are also talking about this weight in Iowa City: 5,400 pounds. That number represents the total weight of the food items collected last Saturday at the first annual America Needs Farmers Food Bank Drive staged as part of the 2012 Iowa Football Spring Practice presented by Coke Zero.
Fans of the Hawkeyes were asked to bring with them to the open scrimmage of the UI football team non-perishable food items to help stock the shelves of the food bank at the Johnson County Crisis Center.
"We're proud that Iowans opened their hearts to bring thousands of pounds of food and critical cash donations to the ANF event," said Craig Hill, and Iowa farmer and president of the Iowa Farm Bureau Federation. "It shows the incredible generosity of Iowans who believe in caring for their neighbors and friends who may have fallen on hard times."
Fans of the Hawkeyes also had the option of making a cash contribution with those funds being will be directed to the Iowa Food Bank Association, which is a collaboration of eight food banks that collect and distribute food and essential supplies across the state, sees a statewide shortage. Iowa Farm Bureau and UI Dance Marathon staff and volunteers collected $1,450 in cash donations.
"About 43 percent of those Iowans who need food assistance don't qualify for government assistance because they are working; it's just that they're not able to cover increased fuel costs, medical bills and meet all the nutritional needs for their families," said Jordan Vernoy, director of the Food Bank Association of Iowa.
"But, donations received from fans of the Hawkeyes will go a long way. Every one dollar donated last weekend at Kinnick Stadium will be used to help us gather $15 of food donations."
To encourage Food Bank donations, the first 1,000 Iowa Hawkeye fans who brought donations, received ANF items. Five lucky fans of the Hawkeyes also won a pair of tickets to the Iowa football team's home game next October against Penn State which is the game where the UI Athletics Department and the Iowa Farm Bureau will collaborate on the second annual ANF Day at Kinnick.
ANF was first launched in 1985 during the height of the Farm Crisis by legendary Hawkeye coach Hayden Fry, who wanted to show an increasingly urban nation why agriculture matters. Fry notes that ANF may be more important today with fewer farmers and a growing population. For more information about why America Needs Farmers, click here.