A toast to Iowa's dairy donation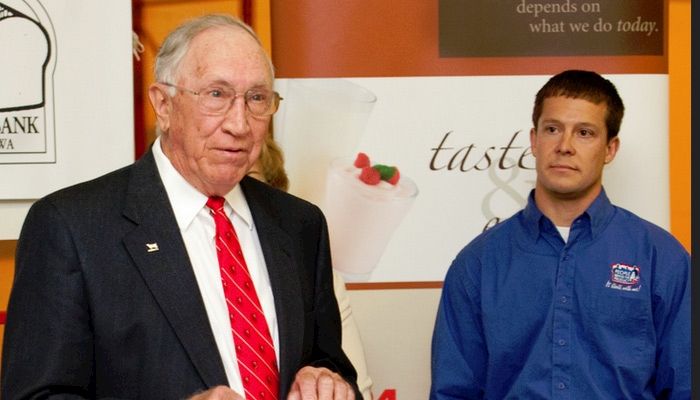 As a reporter, I never know what I'll get at a press conference. It might be a news-worthy event or just a stunt to milk some free publicity. Recently, I covered a dairy announcement that definitely deserved front-page billing.

While plummeting milk prices and skyrocketing feed costs are keeping many of Iowa's dairy farmers awake with worry at night, Joe Lyon has a different perspective.

"Milking gets me up in the morning and helps me get to sleep at night," said Lyon who operates a herd of 300 Jersey cows in Tama County with his family. His idea to help families in need spurred the Midwest Dairy Association to donate $65,000 to Iowa food banks.

"The dairy business has been good to us," said Lyon standing next to a display of jugs of milk, cartons of yogurt and nearly a ton of cheese. "It's a little tough going now, but it's the same for other industries."

Tough going means that dairy farmers are losing money every month because it costs more to feed their cows than what they make selling the milk. It means that many of them are opting to cull their cows, which is to sell them to become hamburgers instead of milkshake-makers.

Many dairy farmers are reaching the breaking point and may simply decide that they've reached the end of the road. This spring, former Iowa State University Extension dairy specialist Robert Tigner said Iowa will most likely lose some smaller dairy operations.

Tough going is an understatement. Hanging on for dear life might be more accurate.

But, instead of looking for a handout, like many big businesses have done, Lyon would rather help out.

"I got to thinking about how we can help others," he said. "I hope it will inspire others, because dairy farmers really care about their fellow man."

The $65,000 donation will help Iowa's six food banks offer dairy products and health information to those in need for the next 12 months. Carrie Miller, with the Des Moines-area food bank, which serves 42 counties and 285 partner agencies, said it's a challenge to keep dairy products on hand and the donation would definitely serve that critical need.

Food bank products are distributed at missions, soup kitchens and through other organizations that help people who are in need of food.

"This is amazing and it's heartwarming to see dairy farmers be so generous now, when people are in need more than ever," said Miller.

In all honesty, Lyon could probably qualify as someone in need. But he doesn't see it that way.

He's hardworking, humble and extremely proud of his family's profession.

"My family is proud to raise a wholesome, nutritious product," said Lyon simply. "And we all need help sometimes in our lives."

Written by Heather Lilienthal
Heather is an Ag Commodities Writer for the Iowa Farm Bureau.