A poppin' trend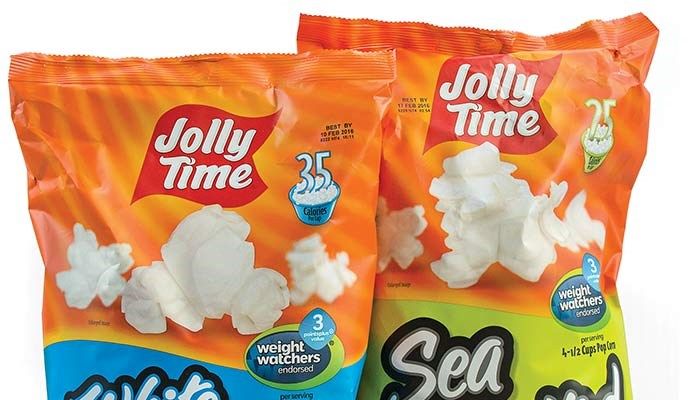 It may be an old-fashioned snack treat, but popcorn has gained a renewed millennial and foodie following thanks to its health benefits, flavor versatility and convenience.
Nowadays, you can find recipes on social media and food blogs for popcorn topped with unusual flavor combinations, like Italian seasonings and grated Parmesan cheese, cracked pepper and sriracha hot sauce.
Jolly Time Popcorn, based in Sioux City, has successfully stayed one step ahead of the ever-changing popcorn trends in its 101 years of business in northwest Iowa.
Tom Elsen, Jolly Time's vice president of marketing, said that when he started working for the Sioux City popcorn company in the late 1980s, microwave popcorn was the "new" offering.
Yet for a whole new generation of millennial consumers, microwave popcorn isn't quick or trendy enough.
Overall U.S. microwave popcorn sales are on the decline. But the emerging ready-to-eat category of bagged, already popped popcorn is seeing double-digit growth in sales.
Last fall, Jolly Time introduced its first line of ready-to-eat popcorn in three flavors: white cheddar, sea salted and "Kinda sweet ... Kinda salty." You can find Jolly Time's ready-to-eat popcorn in Fareway and Hy-Vee stores in Iowa.
Elsen says the ready-to-eat popcorn appeals to customers — particularly moms with young kids — looking for healthy, grab-and-go snacks.
"You see it in other aspects of today's life. We want it fast, and we want it convenient, and we want it portable and accessible wherever we go. Kind of like our phones. We want instant access," Elsen says.
Another advantage of ready-to-eat popcorn is the potential for a wider variety of flavors, which isn't always possible with microwave popcorn because of the extreme heat in the popping bags, Elsen says.
"There seems to be a growing interest in spicy, or a combination of sweet and spicy or sweet and hot," he says. "Habanero chili, Thai spices, a lot of eastern and Indian spices seem to be popular today. (The millennials) have a stronger interest and willingness to try new and different and unique flavors."
Return to
The Iowa Dish
.