A green gift for the holidays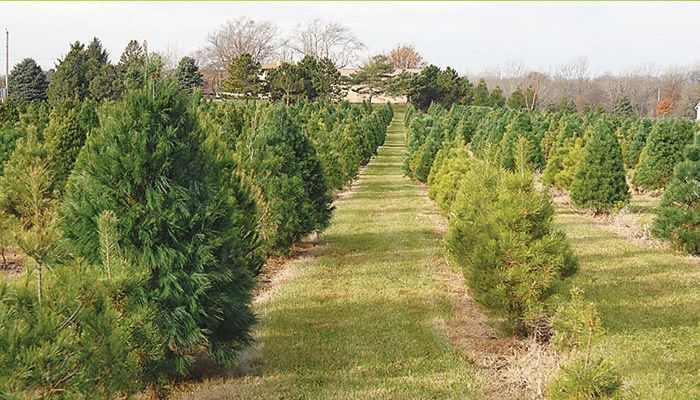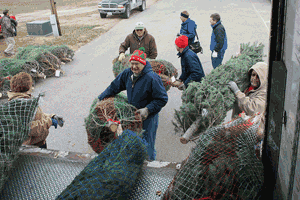 "Place the firs over there and the pines over there," a volunteer called the other morning at the Iowa State Fairgrounds as trucks pulled up to unload trees. A section of the empty parking area had been transformed into a tree depot as trucks with license plates all over the state unloaded their cargo of beautiful fresh cut from the farm: freshly-cut Christmas trees. The trees were part of the sixth annual "Trees for Troops" campaign that delivers real Christmas trees to military families at more than 60 military bases overseas and in the United States.
The 85 trees that were collected by the Iowa Christmas Tree Growers Association were going to be delivered by FedEx free of charge to Minot Air Force Base in Minot, North Dakota to give holiday cheer to servicemen and women that can't be home for the holidays.
It's the busiest time of year for Iowa Christmas tree farmers. But they don't hesitate to give back to those who do so much to protect our freedom.
"It means an awful lot to soldiers and their families and it means a lot to families back home here knowing that we are remembering those that are in the military and away from home during Christmas time," said Jan Pecovsky, Executive Director of the Iowa Christmas Tree Growers Association.
Each tree is carefully adorned with a tag that has the "Trees for the Troops" logo on it and a handwritten message from the grower wishing the recipient a great holiday season. This year the national "Trees for the Troops" campaign is hoping to ship its 100,000th Christmas Tree since starting the deliveries in 2005.
"It's a very honorable thing that we have troops who are willing to sacrifice for us and keep the USA protected, so this is the least I can do," said Bob Strohbehn, a grower from Brooklyn, IA who has been donating trees from his farm for six years. "We've received tear-jerking letters from families telling us how much they appreciate the trees and wreaths we have donated."
There are just over 100 Choose and Cut Christmas tree farms in Iowa, with close to 1,500 acres in tree production. Approximately 39,000 trees are harvested annually across the state. Real trees are renewable and recyclable, they produce oxygen, prevent soil erosion, filter water, and provide wildlife habitat.
For more information about the Iowa Christmas Tree Growers Association and to find a grower near you,follow this link:
http://www.iowachristmastrees.com/
Written by Joe Murphy
Joe is a photographer and writer for Iowa Farm Bureau.