A deal to really be thankful for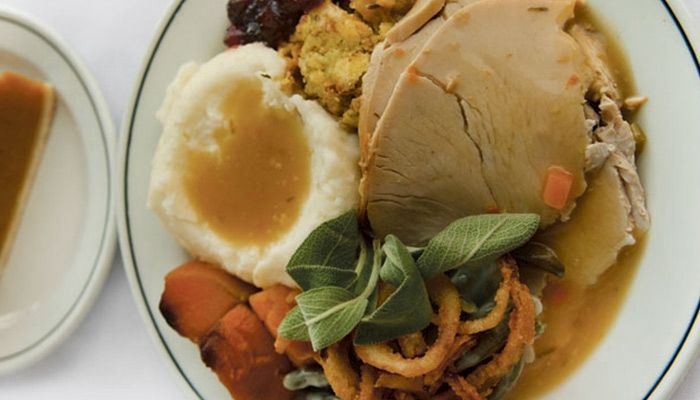 I had to hustle to a meeting in the country recently, so I stopped to gas up before leaving town. Even though the price of gasoline is down a bit from earlier this year, I easily rolled past $50 before my tank filled.
That experience was just another reminder of what a great deal Americans are getting when they sit down soon for their traditional Thanksgiving feast, or any other meal.
In its annual
survey
, the American Farm Bureau Federation recently found that the classic Thanksgiving dinner in 2013 will cost about $49.04. That hearty meal will serve 10 people, and there's likely to be leftovers unless, of course, you've got more than one teenage boy at the table.
Do the math: it's a feast for less than $5 a person. It's actually down a bit from last year and
compared to inflation
, it's an incredible deal.
We're talking here about a really great meal: turkey, bread stuffing, sweet potatoes, rolls with butter, peas, cranberries, a relish tray of carrots and celery, pumpkin pie with whipped cream, and beverages of coffee and milk. The survey takers certainly didn't scrimp on the side dishes to keep the price down.
The affordability of the Thanksgiving meal, and really nearly all of the food we eat, is a testament to the skill, dedication and hard work of farmers, as well as everyone involved in American food production.
Americans spend
less on food
, as a percentage of income, of any other industrialized nation.
And the healthy food choices that Americans enjoy are simply incredible. If you want a free range turkey, it's easy to find at the supermarket. How about gluten-free stuffing mix? Not a problem. And if you want to trim some calories and go for low-cal whip cream on that delicious pumpkin pie, just look in the dairy aisle.
Food is on Americans' minds more than ever these days. Television is stacked with cooking shows and competitions. Magazines are stuffed with the latest recipes and cooking tips.
That's great. But it's worth noting that the myriad of food discussions seldom involve food prices or food choice. Most Americans take for granted that food is going to be affordable and there is going to be an almost endless variety to choose from. That's because farmers and others in the food chain have taken care of it: something we can really be thankful for.
Happy Thanksgiving.
By Dirck Steimel. Dirck is editor of the Farm Bureau Spokesman.