A Wonderful Display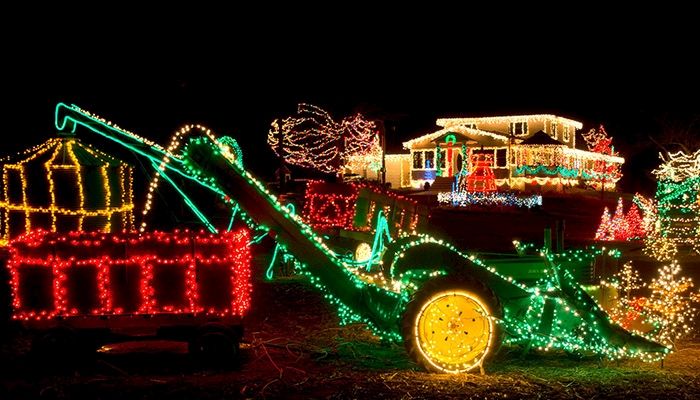 Apparently Dennis Bailey, 68, of Rowan, is not related to George Bailey, the likeable character from the 1946 movie, "It's A Wonderful Life." But Dennis Bailey and his wife, Donna, share the enthusiasm and spirit of Christmas by lighting up their farmstead southeast of Rowan (if you're southeast of town, just look for the glow in the sky). "I'm guessing there are about 80,000 lights this year," said Bailey.

It's one of the wonderful things about living in rural Iowa: the whole community can experience the efforts of a retired farm couple who add a warm glow to the winter countryside.

Dennis Bailey, an avid collector of John Deere tractors, has been putting up a lighting display for the past 27 years. "It seems to get a little bigger every year," said Bailey. Some of his antique tractors and farm machinery are showcased in the display, including a corn elevator with moving lights, as if corn is moving up the elevator and into an outlined corn crib. Some of the other features include a pull windrower, pull combine, a corn picker and shrine to the John Deere logo.

"We've blown a few transformers even with 36 breakers," said Donna. "Last year the utility bill went up $575," added Dennis.

Bailey hopes to move the display to some property with an old mill next year. "I guess we could use a little more space," said Bailey.

Although Dennis Bailey has a donation box at the end of his lane to help offset that electric bill, he says the effort and the couple of months of preparation isn't about them. Instead, he says, it's a celebration of the birthday of Jesus.

Written by Gary Fandel
Gary is the photographer for Iowa Farm Bureau.